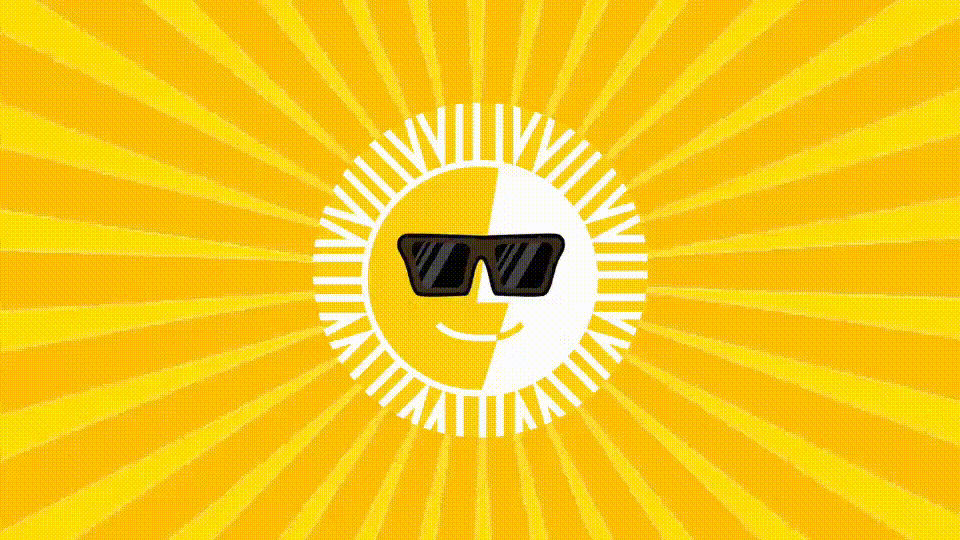 Source
My cryptocurrency holding
This year everyone in the blockchain and crypto world, apart from talking about the price of BTC which broke through the price of $ 18,000 after the USA presidential election, everyone in the world of blockchain and crypto also talked about decentralized finance (DeFi) because of its character that eliminated middleman in the financial world.
I think 2020 is indeed the year of DeFi, because there are so many projects in the Decentralized Financial (DeFi) category that get huge gains. One of the reasons is because it is quite close to daily life, namely financial, so it is considered to have a real and sustainable use case.
In 2020, I have also invested a little money to buy several tokens in the Decentralized Financial (DeFi) category. One of the DeFi tokens that I believe will be good for investment in the future is SUN Token
What is Sun Token ?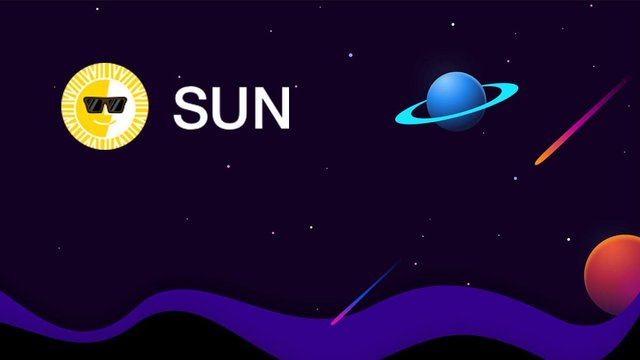 Source
SUN is a social experiment dedicated to the development of the DeFi ecosystem on the TRON platform. Designed to be the Bitcoin equivalent of TRON, SUN is projected to be neither a VC investment nor a PE investment, no pre-mining or reserves for the team, and is fully operated by the community through open-source smart contracts. SUN is a TRC20 based crypto asset with a total supply of 19,900,730.
SUN is expected to be used to promote the strong development of an independent DeFi community on the TRON platform.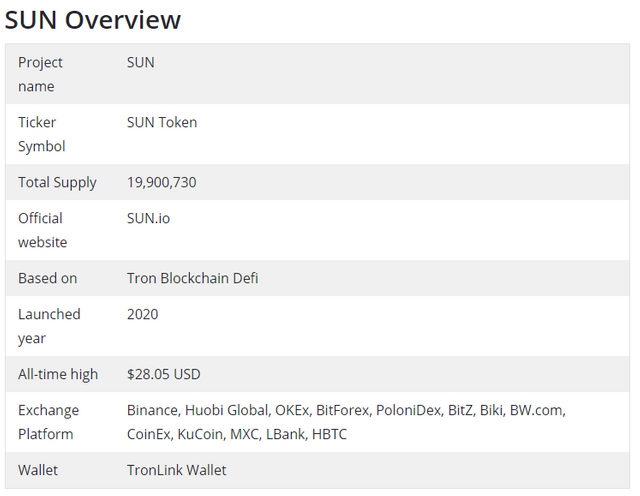 Source
SUN had zero premine at launch, and its whitepaper states that the only way to earn it is by mining. This is done by staking either TRX or other tokens issued on TRON's own TRC-20 standard.
Two mining phases occurred: genesis mining, which lasted for two weeks in September 2020, and regular mining thereafter.
The genesis mining phase mined 9.34% of the total SUN supply. The total supply is 19,900,730 SUN.
User allocations of SUN depends on the amount of value they have staked and the duration of its dedication to staking. Per the whitepaper, users are free to stop staking and claim their SUN allocation at any time.
The DeFi protocol token has started to be listed on some exchanges. At the time of publication, Poloniex and KuCoin announced their support for SUN. The most recent exchange that will add SUN is TronTrade.
How long i had Sun
Because I didn't follow genesis mining and LP Pool, I only got it by buying it on exchange markets such as Poloniex and Binance. I bought this SUN Token for the first time on the Poloniex exchange in mid-October then by buying around 48 SUN Tokens, I bought it at that time for $ 12.72 (Rp. 180,000)



Screenshoot of my own Sun wallet at Poloniex
In early September, I saw the price of SUN drop dramatically to $7 (Rp.100,000). I thought this would be a good opportunity to invest some of the money I had to buy SUN Tokens and I hoped this would be the lowest price for these SUN Tokens.
On that occasion I bought around 52 SUN Tokens on the Binance exchange market for $ 7 (Rp.100,000) with a total value of 52 Sun tokens I invested approximately Rp.5,200,000 ($ 367). With this purchase it means that I currently have A total of 100 SUN Tokens that I saved in the Poloniex and Binance exchange wallets.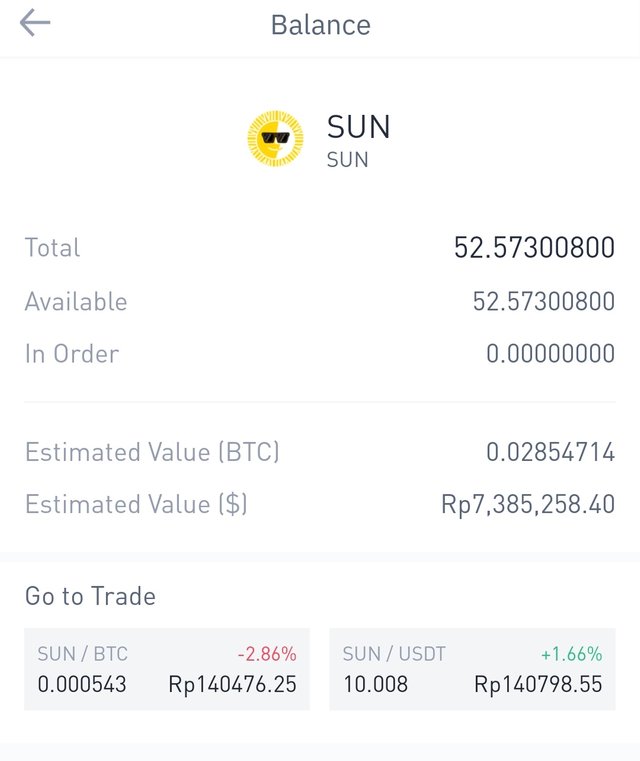 Screenshoot of my own Sun wallet at Binance
What i think of its current performance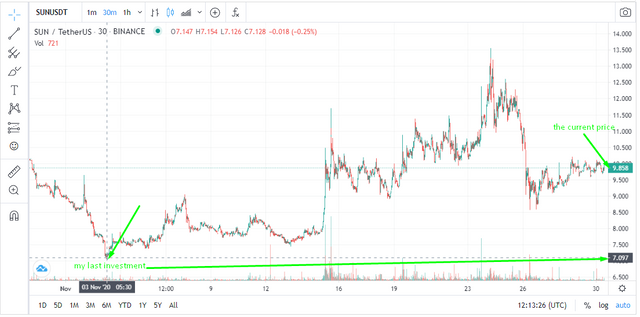 Screenshoot of SUN chart at Binance
SUN price today is Rp 137,495 IDR with a 24-hour trading volume of Rp 661,653,541,714 IDR. SUN is down 1.59% in the last 24 hours. The current CoinMarketCap ranking is #162, with a market cap of Rp 629,888,124,801 IDR. It has a circulating supply of 4,581,173 SUN coins and a max. supply of 19,900,730 SUN coins.
see from the Sun token trading chart on Binance above, Sun's performance has increased by about 30% since I last bought it in early September and I am sure that over time the price will continue to increase to the highest level and the people who invest will also continue increased.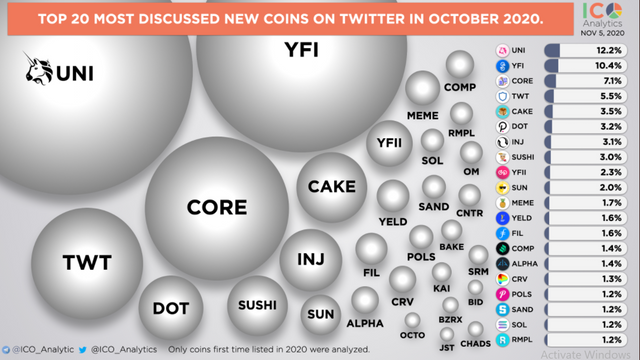 Source
Sun Token is also included in the top 20 new coins with the Decentralized Financial (DeFi) system which is the most discussed on the Twitter platform. That proves that there are so many people who are enthusiastic about Token Sun's presence.
Do i plan to hold, buy more or sell?
My plan for this SUN Token is a long-term investment, I will wait until the price increases by at least $ 150 for 1 SUN Token, considering that the Sun Token supply is only 19,900,730, almost the same as BTC, BTC itself will take years to reach its highest price . This SUN token is also still too young and the development will definitely continue. In the future, maybe we will see many dapps that accept and integrate with this SUN token and the price will certainly increase. who know: D
References:
Cc:-
@steemitblog
@steemcurator01
@steemcurator02
The post payout is set to "Power Up 100%"