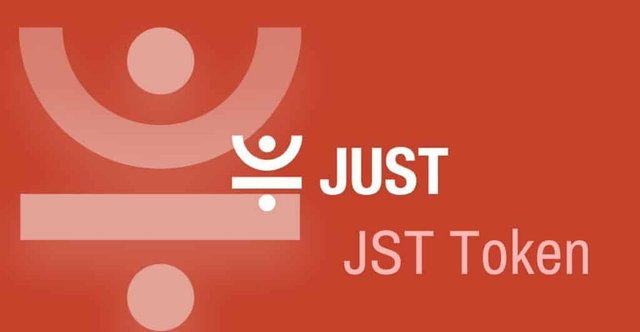 Source
My cryptocurrency holding
I have been familiar with the world of cryptocurrency since bitcoin boomed in 2013, since then I have known the world of cryptocurrency and I have also known several other cryprocurrencies besides Bitcoin, namely ALTCOIN such as Ethereum, Litecoin, Stellar, XRP, Tron and also several other coins.
I am also active in buying and selling cryptocurrencies. there are several cryptocurrencies that I collect at the moment and one of my favorite cryptocurrencies right now is JUST (JST), I have around 120000 JUST (JST)in my wallet which I store in various crypto trading markets such as Binance, indodax and Poloniex.
What is JST (JUST)?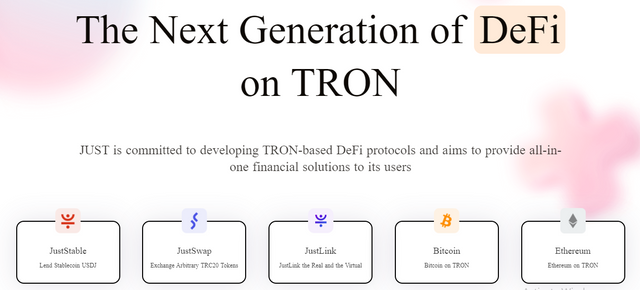 Source
JUST (JST) aims to build a fair and decentralized financial system that provides stablecoin lending and governance mechanisms for users around the world. JUST (JST) is a two token system. The first token, USDJ is a stablecoin pegged to the US Dollar in a 1: 1 ratio and is generated by guaranteeing TRX through the CDP JUST portal. JST, the second token, can be used to pay interest, maintain the platform, participate in governance through voting, and other activities on the JUST (JST) platform.
JUST (JST) allows all transactions, guarantees, and governance to be managed in a transparent on-chain manner. It is built on the TRON Network, the largest decentralized application ecosystem, and aims to provide easy-to-use and transparent financial services for all its members.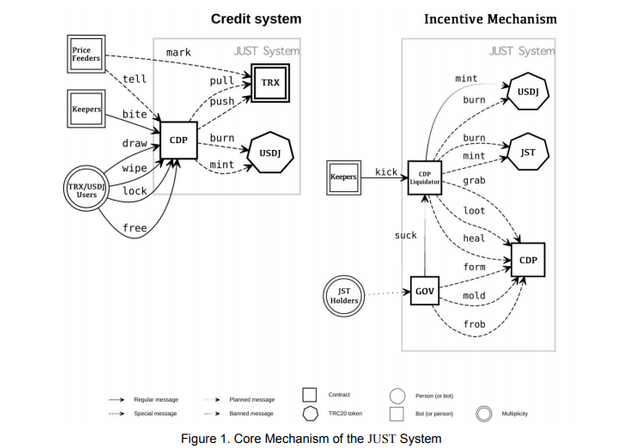 Source
Why did i chose JUST(JST)
The reason why I chose this token is because JUST (JST) uses the Decentralized Finance (DeFi) system. This year the Decentralized Finance (DeFi) System is booming and is a hot topic of conversation in the crypto world where they believe the DEFI system will be very useful in the future and many people have made DEFI tokens their crypto assets. JUST (JST) has good features in my opinion such as:
Fair
JUST (JST) holders can participate in the governance of the USDJ currency system, then achieve decentralized autonomy, true justice.

Without limit
It is available for anyone to open a free account, and have USDJ anywhere, anytime.

Prosperous
Access the growing TRON ecosystem and DApps, giving everyone more opportunities to make a profit.
How long i had JUST(JST)


I have had this JST token since May 2020. I got this coin from Airdrop because I also held TRX (Tron) coins. I also bought around 51,000 JUST (JST) at a price of 0.0076 usd (Rp. 100) or around Rp. 5.100,000 in IDR(Indonesian Rupiah)
I bought a total of 51000 JUST (JST) in 3 markets such as Poloniex, Binance and IndodaX.I sold all JUST (JST) on August 13, when the price of JUST (JST) reached the highest price of 0.092 usd (Rp1,300) but I sold it at a price of 0.071 (Rp1000) from the sale, I got a profit of approximately 9x.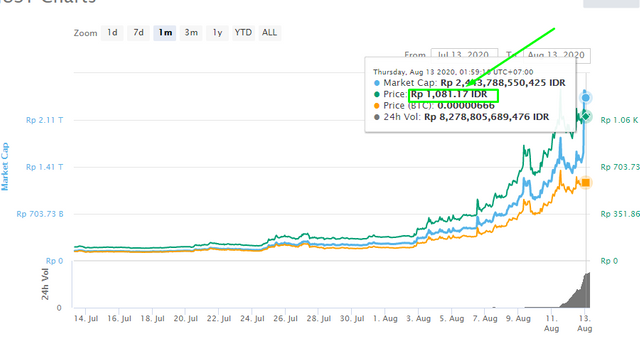 Source
and last October I bought back 50000 JUST (JST) at the price of 0.021usd (Rp300) and kept HOLD it until now.
What i think of its current performance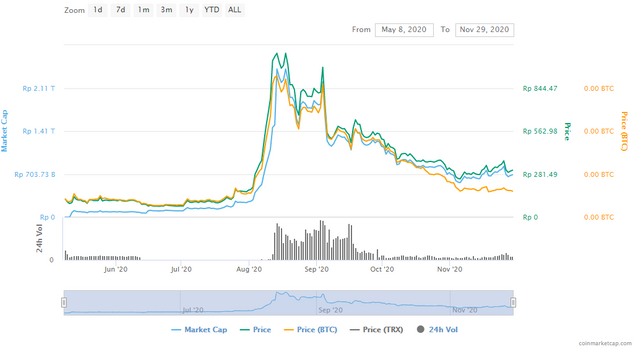 Source
Based on performance data from the coinmarketcap.com site JUST(JST) price today is Rp 305.86 IDR with a 24-hour trading volume of Rp 745,791,481,054 IDR. JUST(JST) is up 1.71% in the last 24 hours. The current CoinMarketCap ranking is #155, with a market cap of Rp 691,343,873,151 IDR. It has a circulating supply of 2,260,326,706 JST coins and a max. supply of 9,900,000,000 JST coins. The top exchanges for trading in JUST(JST) are currently Binance, Poloniex,Huobi Global,Indodaxm,HBTC, ZG.com, and Hydax Exchange.
The developers from Just Network also recently launched innovations that are good for the ecosystem. There are 2 platforms that have been lauching which in my opinion are very good for supporting user activity and the development of JUST (JST), namely:
JustSwap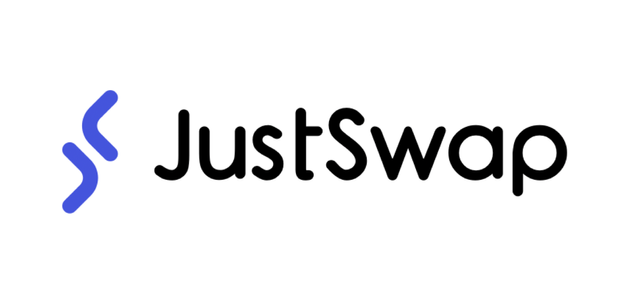 Source
JustSwap is an exchange protocol on TRON for exchanges between TRC20 tokens.Conversion can happen easily between any 2 TRC20 tokens based on system price. All trading fees collected will directly go to liquidity providers of the protocol, rather than the protocol itself.This ensures full decentralization and security.
JustLink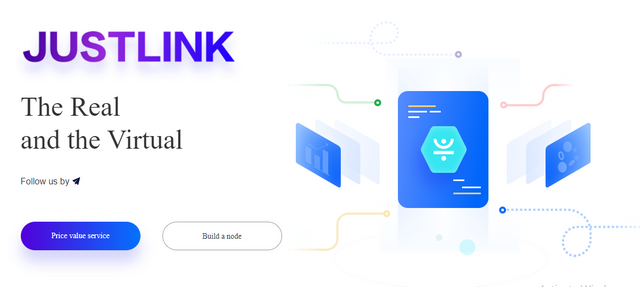 Source
JustLink is a decentralised oracle network. Decentralisation reduces the needs of trust among parties of the contracts, and JustLink ensures the security of the entire procedure of smart contracts execution, including obtaining data from off-chain sources. This is the prerequisite of connecting smart contracts to the real world and
taking the place of traditional digital contracts.
Good news recently also came from the Crypto Department where JUST (JST) was included in the Top 10 DeFi Projects by Social Activity!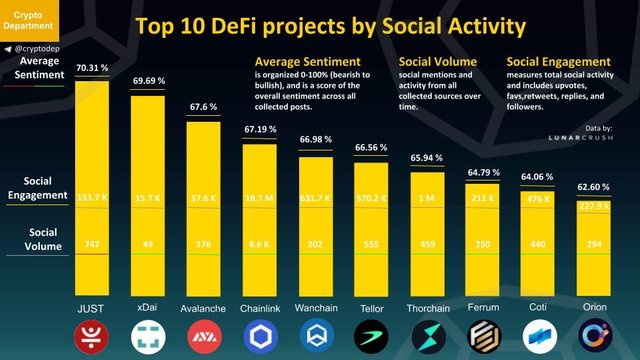 Source
This is a great performance, Apparently JST is the most active online in the DEFI space.
and I believe the JUST (JST) ecosystem will continue to grow rapidly in the future.
What i think about JUST(JST) future prospects
I believe JUST (JST) which uses the DeFi system will be a future solution as a saving and lending mechanism. The reason is, DeFi will continue to create new innovations that will make digital financial transactions easier.
All JUST (JST) developers also continue to innovate in the DeFi system. Later, JUST (JST) will be even more crowded and truly present to be a solution to financial problems around the world.
Do i plan to hold, buy more or sell?
If I look at the current situation where the performance of JUST (JST) continues to increase from time to time and see the developers still continue to work make good innovations, I certainly plan to continue to hodl my 120000 JUST(JST) that I have for a long term ,maybe next 1-2 years later, that is because I see a lot of potential in the JUST(JST) cryptocurrency which I believe will be a bright prospect in the future.
References:
Cc:-
@steemitblog
@steemcurator01
@steemcurator02
The post payout is set to "Power Up 100%"