Today, we're happy to announce that the WhereIN witness is live! Please vote to us!
Steem connects us. About 15 months ago, whereIN DApp was released on Jan 4th, 2019, and listed on State of The Dapps. Though we met a lot of challenges along the way, we're more affirmed that the future of WhereIN lies in SMT, and will try our best to drive that into reality and worldwide applications. Today, we launched WhereIN Witness to promise our responsibilities to build the future together with the awesome Steem community.
WhereIN
WhereIN Dapp
WhereIN is the first and one of the most popular DApp in mainland China -- a lifestyle sharing commuinty on top of Steem, with a Instagram-like experience. We launched WhereIN with our announcement in WhereIn - A Steem-based lifestyle social media platform, and today all the major features are developed, and we'll resume our rodamap for building SMT into reality together.
On WhereIN, users can post, vote, comment, receive notification, transfer, select nodes, etc., and we also developed whereinconnect to make it easy to register and login by China mainland users, and get their first 10SP to start their journey in Steem. We have built WhereIN Pre-Token, and received SP delegation from 311 friends around the world for supporting the growth of WhereIN community. We also released English version, and enabled registration and siginin via phone number, QR scanning, etc., for providing a better user experience.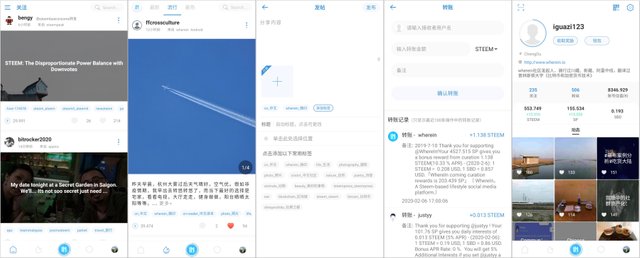 WhereIN Community
From the early days of WhereIN, we have launched numerous events, such as "Eternal Records in 2019", "Show me Around your City", "Home Cooking, Delicious Cooking", "Travel Destination Recommendation", "My Cute & Wild Kids", "Your Favorite Snacks", "Holiday Today!!", etc., and everybody enjoyed their happiness in the activities. We have run the activities for 16 weeks, and you can check it out in @wherein's posts.
We set up another popular talk show called "10 Questions" where we invited the impactful users in CN community @ericet、@joythewanderer、@deanliu to sit together with WhereIN community and answered 10 questions, for sharing fun, experiencce and insight about Steem. We organized meetups in 4 major cities in China to broadcast Steem to Chinese users. You can find the details about the meetups in WhereIN中国行——行走4城,遇见你! and WhereIN China——Let the Voice of Steem Express to the Coastal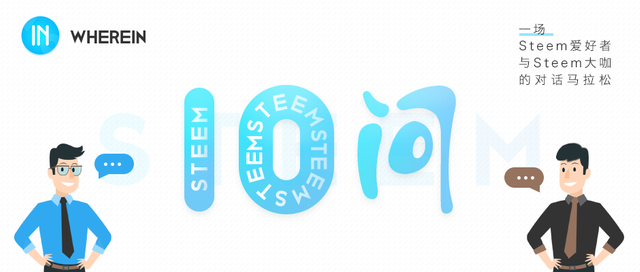 SMT - WhereIN
The reason why we join Steem is we agree with the vision of SMT and communities. SMT + Communities are the future direction of WhereIN in long term.
Communities are our top priority. We should first build Steem into a place where everyone could join us for their hobbies, the content they created or shared will be rewarded, and the community could unite to resolve problems. This is the why Steem may be adopted by the entire world, and serves as a more fair and unbiased infrastructure for Web 3.0, and SMT is the core to accomplish this mission. We shared our ideas about this in details in The Future of Steem Lies In SMT | SMT才是Steem的未来.
WeChat MiniProgram built with Steem
To make SMT possible for Chinese users, we have developed a specific verson of steemconnect for CN, to ease the login process, and easily connected with WeChat account. We have built a Steem4WP wordpress plugin, to make it possible to run WeChat Mini-Program on top of Steem and Wordpress. Via this plugin, we're able to onboard 10K WeChat Mini-Program (kind of a light App) in China, to be connected into Steem.
Every community opeartor or entrepreneur only needs to cost less than 1000 CNY to launch a community like WhereIN MiniProgram, while a Mobile App with simiilar functionalities will cost more than 20K CNY.
We also implemented the feature of automatic Steem user registration and login for the WeChat users (with 10SP delegation), to help users join Steem fricitionlessly. We're working together with WanZi community on enhancing WhereIN MiniProgram with better user experience and video sharing features, etc.
@wherein have shared our work in From Miniprogram to Steem, WhereIN miniprogram is now online in details. The WhereIn Mini-Program looks as below: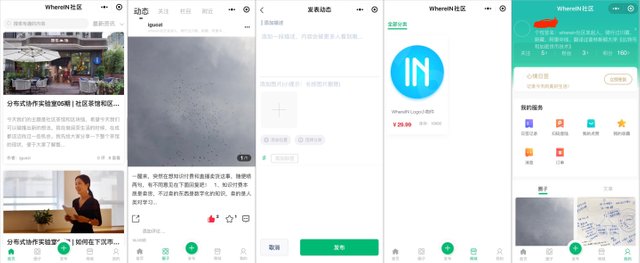 A "Reddit" based on Steem
In the meanwhile, we have developed another Community WeChat Mini-Program, in order to build a Steem-based Reddit platform in China. We have almost done the development of this Mini-Program and will soon start working on integrating with SMT TestNet.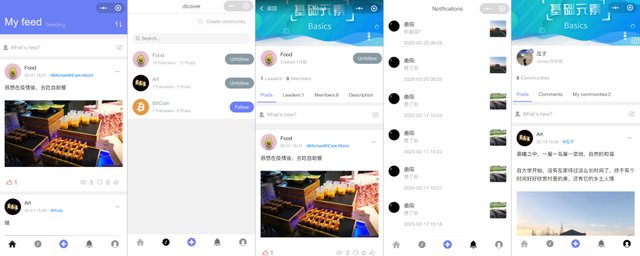 The Lab of Distributed Collaboration
We started The Lab of Distributed Collaboration, and gathered a group of "blockchain-driven community" zealots in the WeChat group of "Community + Blockchain Study Group", who're bringing blockchain into daily life. We believe SMT is the cornerstone of "Blockchain-Driven Community", which will bring an era of explosion of blockchain-based communities.
We organized group activities such as Thought Leader Sharing, Online Brainstorm, and has today moved to its 14th episode -- 从产品到人心,如何深耕用户关系 (From Product to Humanity, Delve into Customer Relationship Management)
In 2020, we plan to partner with WorkFace to launch Steem meetup in major cities of China, including Shanghai, Shenzhen, Guangzhou, Beijing, Chongqing, Qingdao, Xiamen, and meet our friends in Steem. In the meanwhile, we'll hold Community Leader BootCamp with WorkFace, and foster more talented Community Leaders for our society.
The Future of "Blockchain-Driven Community"
In future, we hope, every organization or person can easily launch a blockchain-driven community, and easily issue community tokens, with their own social media clients. Every school, local community, club, can benefit from social media tools and tokenized community. This will empower tiny organizations and individuals by technologies, and boost the prosperity and development of the society.
We believe in the future of SMT, and is moving towards that direction. SMT-WhereIN Witness is a brand new start for us to achieve more milestones and contribute more to Steem ecosystem, our dear users and our lovely communities. Please join us and vote for us! Thanks!
Please vote for us
Thanks to the delegation for @wherein and @cnstm in the past year
Thanks
@nineteensixteen
@lanhange
@honoru
@shenchensucc
@deanliu
@itchyfeetdonica
@likuang007
@wspace
@htliao
@cryptoast
@ericet
@realself
@andrewma
@robin.han
@zmx
@windowglass
@aaronli
@cheva
@yellowbird
@julian2013
@morningshine
@hmayak
@angelina6688
@alvin0617
@elizacheng
@starrouge
@davidke20
@kelvinzhang
@crypto.talk
@bxt
@softmetal
@slientstorm
@liubao
@cn-malaysia
@sasaadrian
@pgshow
@qifenggan
@aafeng
@aellly
@nuagnorab
@bboyady
@minloulou
@mermaidvampire
@doveyan
@evayer
@bobdos
@bsfmalaysia
@liuzg
@cryptocurrencyhk
@stepbie
@cherryzz
@abcallen
@itrmarcusliew
@jingyun
@lovelemon
@also.einstein
@annabellenoelle
@andrewnoel
@vinnieleow
@casperleow
@sunai
@ydebbie
@zerofive
@hertz300
@art-s
@ryenneleow
@halleyleow
@foodiecouple
@cecilian
@sonyeye
@fionagan
@robertyan
@statsexpert
@lazyman
@mrpointp
@mrspointm
@trevorlp97
@trevormomo
@cherrylp147
@pizzapai
@victoria-bella
@wongbraling
@jaki01
@btscn
@wilhb81
@janusface
@taskmaster4450
@catwomanteresa
@sportscontest
@tokensink
@tommyl33
@m18207319997
@jeffjagoe
@niallon11
@shrazi
@hope-on-fire
@new-world-steem
@marfonso
@newageinv
@wongshiying
@robmojo
@j85063
@netaterra
@gabbynhice
@kimzwarch
@knightsunited
@maeusenews
@annzhao
@masterthematrix
@revisesociology
@eastmael
@jznsamuel
@dinglehopper
@caladan
@dune69
@bitrocker2020
@cesky
@ooairbb
@nataboo
@steemstorage
@hedidylan
@littlenewthings
@karma-panorama
@chekohler
@sames
@nostalgic1212
@china.mobile
@yanhan
@oppongk
@janicechua
@steempampanga
@london65
@moneymisstress
@bozz
@hubyr
@steembake
@pepijin
@pipa
@oont
@kaigo
@yiwho368
@sisygoboom
@baiyumo
@runridefly
@darmianto5
@blairbitz
@michealb
@jingyu
@cnsteem
@xeldal
@oldtimer
@aggroed
@yabapmatt
@lebin
@meesterboom
@amico
@enjoyinglife
@superlotto
@june0620
@ffcrossculture
@runicar
@joy2018t
@shitsignals
@travelgirl
@rosatravels
@kenny-crane
@photohunt
@joythewanderer
@cakemonster
@investingpennies
@livinguktaiwan
@ety001
@ocupation
@bryan-imhoff
@julianhorack
@tarazkp
@flipstar
@b00m
@mattclarke
@steemstreems
@ninjavideo
@lordbutterfly
@ivansnz
@khaleelkazi
@toofasteddie
@abh12345
@anonsteve
@raj808
@russia-btc
@acidzapps
@dylanhobalart
@paulag
@slobberchops
@bobby.madagascar
@wanggang
@novacadian
@gattino
@anttn
@holger80
@torrey.blog
@celestal
@tomhall
@shaidon
@tobias-g
@tanlikming
@r00sj3
@spiritualmax
@clm
@goldrooster
@felander
@dreamryder007
@newtechblog
@stuffbyspencer
@jpphotography
@michaelcabiles
@chesatochi
@tibfox
@joannewong
@for91days
@funtraveller
@hll
@ketcom
@blanchy
@moneybaby
@preparedwombat
@soyrosa
@metzli
@allyson19
@photocircle
@nonsowrites
@quatro
@jadung
@khiabels
@theithei
@cjsean
@masoom
@nextgen622
@jozef230
@joetunex
@noechie1827
@glstech
@pastoragus
@tinster
@neove
@sgt-dan
@actifit-peter
@korle
@ale.dri
@elementm
@angelanichole
@cabalen
@cryptocurrencyhk
@tydebbie
@huangzuomin
@yysb
@cnbuddy
@cnfund
@zsc1251
@amao1018
@davidchen
@annepink
@fotopic
@indowhale
@activisteem
@bahrizq
@steembassy
@steembiosis
@steeminent
@opsteemaction
@easteem
@upvoter
@legions
@ac-curation
for delegations!
---
今天,我们正式宣布,wherein上线见证人节点,请大家对我们的见证人进行投票。
Steem让我们彼此相遇,自2019年01月04日 WhereIN Dapp登陆State of The Dapps以来,我们已一起走过一年多时光。这里面的酸甜苦辣,只有身处其中才能体会。未来,我们向着更深远的目标前行——致力于SMT的开发落地和应用推广。于是,我们开启了wherein的见证人竞选,希望做更多事情,承担更多责任。
WhereIN
WhereIN Dapp
WhereIN开启了Steem在大陆的第一个,也是唯一个Dapp——一个基于Steem的生活方式分享社区,我们将Instagram风格引入Steem。《WhereIn - A Steem-based lifestyle social media platform》宣告了WhereIN的诞生,目前我们已实现文中的主要功能,也按照路线图走到了SMT阶段。
通过WhereIN,大陆用户可以发帖、点赞、评论、收取通知、转账、选择节点等等。我们还开发了whereinconnect模块,使得大陆用户可以轻易而举的注册Steem账号,自动获得10SP代理,在Steem中活动。我们开发了WhereIN Pre-Token,前后合计有311位伙伴代理SP给到我们,支持社区的发展。我们还支持了英文版本,支持手机号登录和注册、扫一扫等功能,一切为了给大家提供一个更好用的Steem Dapp。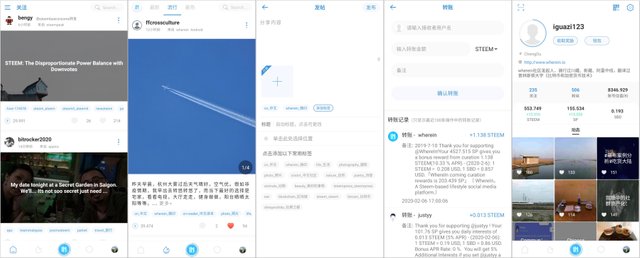 WhereIN社群
WhereIN上线伊始,我们就在社区中组织各种活动——「绝不停止记录的2019」「带我看看,你的城市」「美味就是家常味」「每人推荐一个目的地」「可爱毛孩子」「我最中意的小吃」「过节了!」,各种活动,大家在Steem社区玩得很High。我们进行了16周,详细活动可在@wherein帖子中发现。
我们邀请@ericet、@joythewanderer、@deanliu 「点击链接,可查看访谈内容」来到WhereIN社群中,以十问访谈的形式,和大家分享对Steem的认识,让大家更了解Steem。我们行走4城,让更多中国用户知道Steem。《WhereIN中国行——行走4城,遇见你!》、《WhereIN China——Let the Voice of Steem Express to the Coastal》这两篇帖子记录了我们行走中国的经历。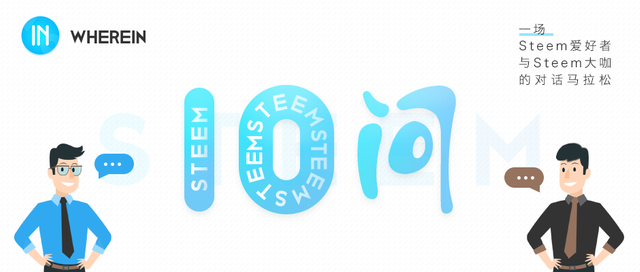 SMT - WhereIN
进入Steem早期,我们就看重两点:第一是SMT;第二是社群。未来,SMT和社群是我们的方向。
社区是我们的首要任务。我们首先要解决的是让Steem成为任何人都可以围绕特定兴趣聚集起来,并通过奖励创建者共享特定内容,解决社区问题的场所。这是Steem能够走向世界,打造更公平、分布更均匀的互联网架构的基础所在,SMT是其中的核心模块。在这篇文章《The Future of Steem Lies In SMT | SMT才是Steem的未来》中,我们对其进行了很好的阐述。
小程序 to Steem区块链
为了更好地在CN区支持SMT,我们开发了steemconnect中国版,以便中国用户能够通过steemconnect进入到Steem中。我们还通过Steem for Wordpress插件,将微信小程序与Steem进行了连接。通过这个插件,中国有1万个微信小程序(可以看成简单的App)可以快速接入Steem。任意社区主或者企业家只需花费不到1000元,就可以拥有一个与wherein小程序类似的基于Steem的社区,而同样的App费用高于20000元。
我们还实现了,微信用户登录小程序就自动拥有Steem账号,并获得10SP的代理,让微信用户无缝进入Steem区块链。我们正在与丸子社区合作,不断优化wherein小程序,更好的交互、支持视频分享等等。
这方面的工作,@wherein 在《From Miniprogram to Steem, WhereIN miniprogram is now online》有详细的阐述,以下是接入Steem后的wherein小程序。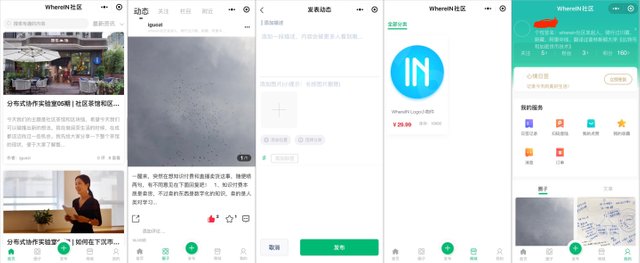 区块链版reddit
我们亦开发了全新的社区小程序,希望在中国推出基于Steem区块链的类reddit平台。目前,社区小程序的开发已经接近尾声,下一步就是在SMT测试网上进行测试了。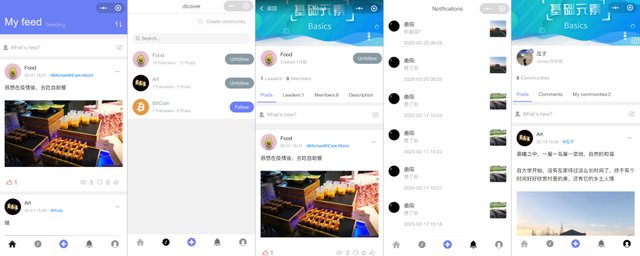 分布式协作实验室
我们发起了分布式协作实验室,在「社群+区块链学习小组」微信群聚集了一群对社群、区块链有着浓厚兴趣的伙伴,一起探索社群+区块链的落地应用。我们认为SMT是"社群+区块链"的关键一环,它将带来基于区块链的社群大爆发。我们开展了"大咖分享"、"头脑风暴"等线上活动,相关活动已进行到第14期。第14期活动的主题是——《从产品到人心,如何深耕用户关系》,相关内容可见@wherein帖子。
2020年,我们还计划,联合WorkFace开展Steem中国行,在全国主要城市与Steem爱好者见面,预计会在上海、深圳、广州、北京、重庆、青岛、厦门等城市行走。同时,会联合WorkFace成都,展开社群官训练营,为社会输送社群官人才。
"社群+区块链"未来
我们希望,未来任何组织、个人都可以轻易而举的发起基于区块链的社群,发行社群Token,拥有自己的社交媒体客户端。不管是一个学校、一个小区、一个俱乐部、一个爱好者社群,都能享受社交媒体、社群资产化带给组织的好处。让无数微小的个体和组织发声,利用技术赋予其能力,实现个体和组织的繁荣发展。
我们坚信SMT的未来,也在这条路上持续前进着,smt-wherein见证人是这里面的一环,希望能得到大家的支持。
请投票给我们
感谢过去一年270位Steemian对 @wherein and @cnstm 的代理
感谢
@nineteensixteen
@lanhange
@honoru
@shenchensucc
@deanliu
@itchyfeetdonica
@likuang007
@wspace
@htliao
@cryptoast
@ericet
@realself
@andrewma
@robin.han
@zmx
@windowglass
@aaronli
@cheva
@yellowbird
@julian2013
@morningshine
@hmayak
@angelina6688
@alvin0617
@elizacheng
@starrouge
@davidke20
@kelvinzhang
@crypto.talk
@bxt
@softmetal
@slientstorm
@liubao
@cn-malaysia
@sasaadrian
@pgshow
@qifenggan
@aafeng
@aellly
@nuagnorab
@bboyady
@minloulou
@mermaidvampire
@doveyan
@evayer
@bobdos
@bsfmalaysia
@liuzg
@cryptocurrencyhk
@stepbie
@cherryzz
@abcallen
@itrmarcusliew
@jingyun
@lovelemon
@also.einstein
@annabellenoelle
@andrewnoel
@vinnieleow
@casperleow
@sunai
@ydebbie
@zerofive
@hertz300
@art-s
@ryenneleow
@halleyleow
@foodiecouple
@cecilian
@sonyeye
@fionagan
@robertyan
@statsexpert
@lazyman
@mrpointp
@mrspointm
@trevorlp97
@trevormomo
@cherrylp147
@pizzapai
@victoria-bella
@wongbraling
@jaki01
@btscn
@wilhb81
@janusface
@taskmaster4450
@catwomanteresa
@sportscontest
@tokensink
@tommyl33
@m18207319997
@jeffjagoe
@niallon11
@shrazi
@hope-on-fire
@new-world-steem
@marfonso
@newageinv
@wongshiying
@robmojo
@j85063
@netaterra
@gabbynhice
@kimzwarch
@knightsunited
@maeusenews
@annzhao
@masterthematrix
@revisesociology
@eastmael
@jznsamuel
@dinglehopper
@caladan
@dune69
@bitrocker2020
@cesky
@ooairbb
@nataboo
@steemstorage
@hedidylan
@littlenewthings
@karma-panorama
@chekohler
@sames
@nostalgic1212
@china.mobile
@yanhan
@oppongk
@janicechua
@steempampanga
@london65
@moneymisstress
@bozz
@hubyr
@steembake
@pepijin
@pipa
@oont
@kaigo
@yiwho368
@sisygoboom
@baiyumo
@runridefly
@darmianto5
@blairbitz
@michealb
@jingyu
@cnsteem
@xeldal
@oldtimer
@aggroed
@yabapmatt
@lebin
@meesterboom
@amico
@enjoyinglife
@superlotto
@june0620
@ffcrossculture
@runicar
@joy2018t
@shitsignals
@travelgirl
@rosatravels
@kenny-crane
@photohunt
@joythewanderer
@cakemonster
@investingpennies
@livinguktaiwan
@ety001
@ocupation
@bryan-imhoff
@julianhorack
@tarazkp
@flipstar
@b00m
@mattclarke
@steemstreems
@ninjavideo
@lordbutterfly
@ivansnz
@khaleelkazi
@toofasteddie
@abh12345
@anonsteve
@raj808
@russia-btc
@acidzapps
@dylanhobalart
@paulag
@slobberchops
@bobby.madagascar
@wanggang
@novacadian
@gattino
@anttn
@holger80
@torrey.blog
@celestal
@tomhall
@shaidon
@tobias-g
@tanlikming
@r00sj3
@spiritualmax
@clm
@goldrooster
@felander
@dreamryder007
@newtechblog
@stuffbyspencer
@jpphotography
@michaelcabiles
@chesatochi
@tibfox
@joannewong
@for91days
@funtraveller
@hll
@ketcom
@blanchy
@moneybaby
@preparedwombat
@soyrosa
@metzli
@allyson19
@photocircle
@nonsowrites
@quatro
@jadung
@khiabels
@theithei
@cjsean
@masoom
@nextgen622
@jozef230
@joetunex
@noechie1827
@glstech
@pastoragus
@tinster
@neove
@sgt-dan
@actifit-peter
@korle
@ale.dri
@elementm
@angelanichole
@cabalen
@cryptocurrencyhk
@tydebbie
@huangzuomin
@yysb
@cnbuddy
@cnfund
@zsc1251
@amao1018
@davidchen
@annepink
@fotopic
@indowhale
@activisteem
@bahrizq
@steembassy
@steembiosis
@steeminent
@opsteemaction
@easteem
@upvoter
@legions
@ac-curation
对
@wherein
、
@cnstm
的代理!
---
WhereIN Dapp是一个基于Steem区块链的图片社区,于2019年01月06日上线。上线以来,大大方便了中国用户进入Steem区块链,被大家一致称赞。WhereIN的使命就是推动Steem在社群方向的进一步发展,以及将中国纳入到Steem区块链的世界中。详细可见 @wherein发布的帖子,《WhereIn - A Steem-based lifestyle social media platform》对此进行了部分描述。