MAPR is now in hibernation.
Delegators should undelegate, and MAPR holders should sell their tokens.
It is imperative that members read this recent announcement.
The posts will continue on a weekly basis for now, but will be much shorter than usual. Links to older posts and information can be found at the announcement link above.
I am calling this "hibernation" rather than just "closing down" as there is some active SP left. However, the whole fund is now too small to be hugely profitable given the current Steem economics. But that may change in the future, so anybody interested in continuing to participate may do so with a new minimum delegation of 1,000 SP. Those above 1k SP will receive weekly payouts, but the bonus tokens have been discontinued.
---
General Info
The old rules and simple explanations can be found here. Please read it, and links within it, before asking the obvious. As of April 2022 the minimum delegation is now 1,000 SP.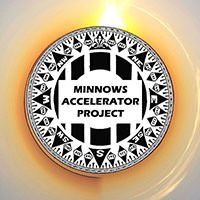 MAPR: The Numbers
All these numbers relate to a 7-day period (Monday to Sunday) and calculated in STEEM per SP.
Value of Steem upvotes = APR 18.3% [1a], 10.4% [1b], 10.1% [1c]
Value of Steem author rewards payouts = APR 100.0% (250%!!) [2a], 57.0% [2b], 55.0% [2c]
Distributed MAPR payouts = 0.422% (APR 22.0%) [3]
Projected Compounded APY 24.6% [4]
Average APR 19.0% (26-weeks)
MAPR BUY Price: 1.10 STEEM [5]
MAPR Price increase = +0.0% APR
MAPR SELL Price: 1.15 STEEM [6]
[1] Theoretical maximum value of Steem upvotes, assuming 10 full upvotes at 100% power for 7 days, averaged over 7 days and expressed as an APR. This calculation was performed for an SP of 1 million STEEM to be as close as possible to linearity. Your own upvote will be somewhere between 50-100% of this value.
The values are now calculated for three levels of voting power: 1 million SP (a); 10,000 SP (b); and 1,000 SP (c).
[2] Theoretical value of Steem upvote author rewards, assuming 50% curation rewards, 50-50 split of post payouts and SBD print rate, averaged over 7 days and expressed as an APR. Your own author rewards will be somewhere between 50-100% of this value.
[3] MAP Rewarder distributed payout sent to delegators this week as tokens, including bonus tokens, and the MAPR price adjusted to reflect this.
[4] Equivalent compounded yield as an APY for this week's distribution in [3]. We now have enough data to give a better historical picture of progress and have including a 26-week average to give a measure of medium-term returns.
[5, 6] Our BUY and SELL prices are currently fixed until further notice.
Profits will be paid today in MAPR tokens.
MAPR News
The main news is the announcement at the top of the page. We shall carry on as a semi-private program. Our own income remains good, and we can share it with others, but the total fund under management is modest, hence we shall only accept larger delegations from now on.
Things may change.
A longer discussion can be found at the last rewards distribution post.
And finally, although our weekly returns are variable, here is a graph of how the token price has been performing since the MAPR token was launched. (Thanks to @gerber for the discord-bot.)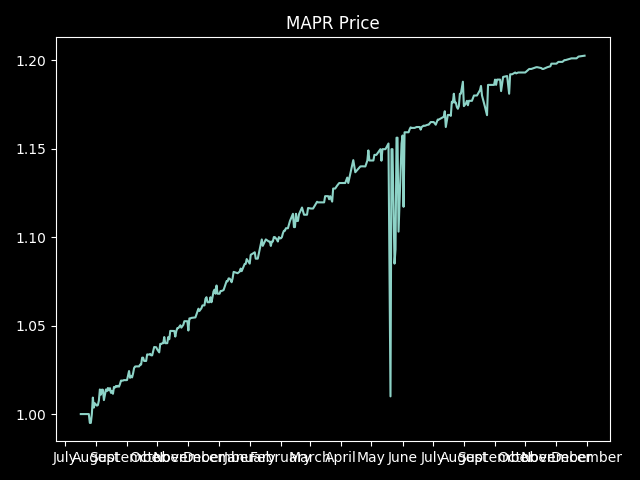 As this is now a historical graph, as the app that generates it no longer works, I shall keep it as a monument.
See you next week!
I hope you all survive 2022!

---
---
Building Steem's Fintech

[BUY MAXUV] - [READ MAXUV]

[BUY MAPR] - [READ MAP REWARDER]