Bacon is so good even some vegetarians cheat with it. Can we make it better? As a breakfast meat, it can't be beat. And BLTs ain't too shabby either.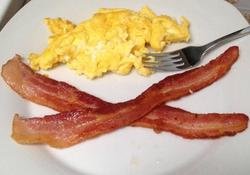 A preview of things to come
The time honored method of cooking it in a skillet works but has its flaws. Crispy bits are great but not if the whole thing is too crispy that it has the texture of a cracker more than a piece of meat. Less crispy bacon leaves the fat too chewy and also comes with the risk of undercooking the pork.
Getting the timing just right to get a great slice of bacon is something that comes with experience but for those who don't make it every day, it's somewhat of a conundrum. I tend to overcook bacon in a pan, myself.
How can we make it better?
A cooking method that has seen increasing popularity in recent years is sous vide. This is sealing, often with a vacuum, your raw food in a plastic bag or pouch and slow cooking it in water kept at a specific temperature heated by a sous vide precision cooker. The great thing about bacon is that it already comes in a vacuum sealed pouch!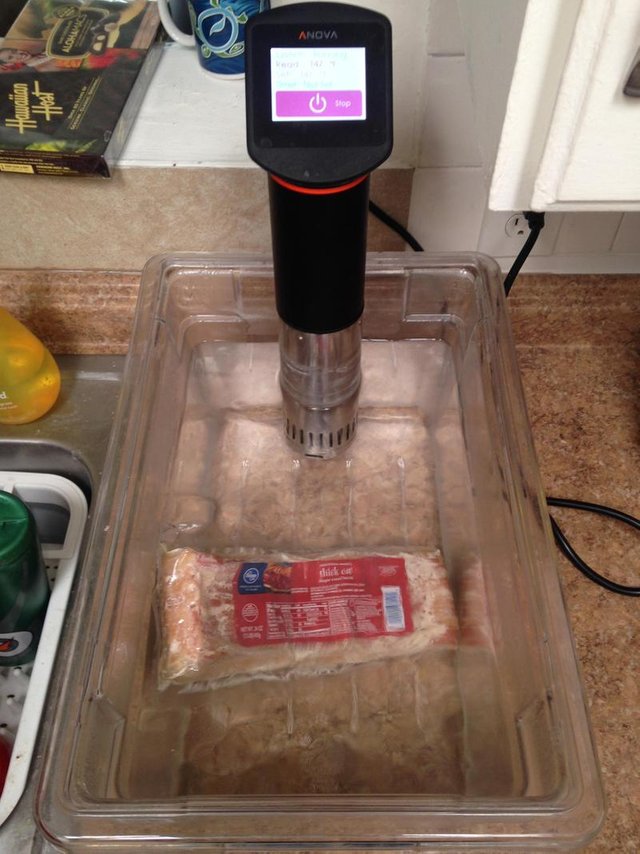 Thicker cut bacon is recommended if you want more meaty tenderness. Slow cooking the bacon is done overnight, to be ready by breakfast time. Set the temperature to 145 degrees F (63 degrees C) (or in the neighborhood :P) and drop the bacon package in.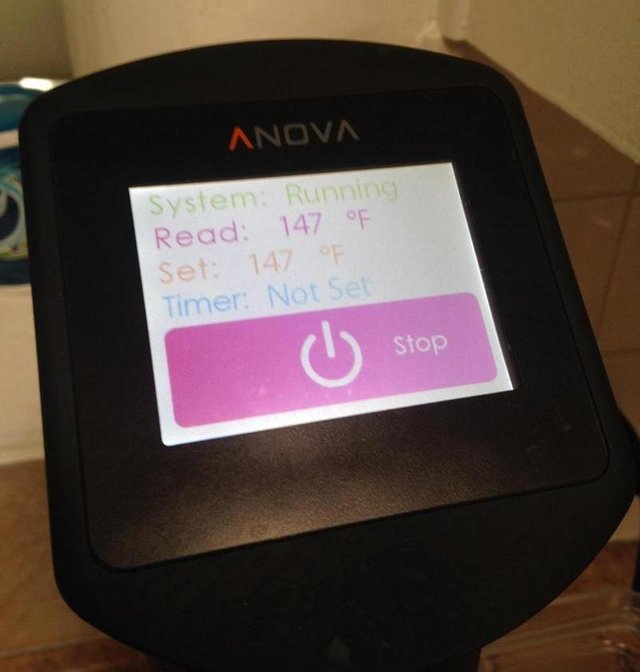 Let it cook overnight and in the morning you'll wake up to a slow cooked package of tender bacon. Much of the fat will have rendered out, so cut the pouch open and drain it. You could actually eat it right there, but the texture is weird and it will look raw still.
So it's time to finish it. Here's another twist, the Searzall. This modern kitchen toy uses flammable gas burning combined with an infrared-providing mesh grill to give a nice sear on anything that needs a high-temperature singing.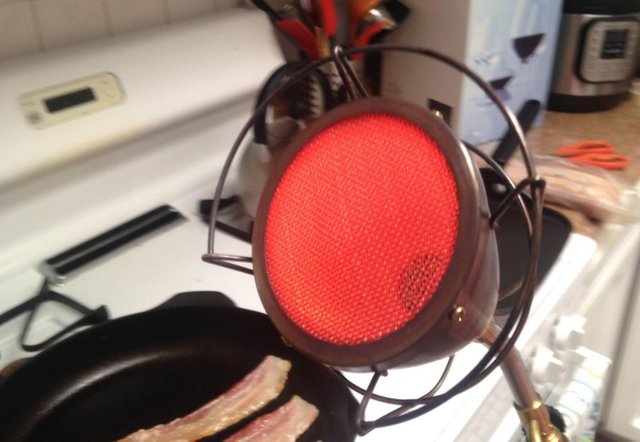 Put some bacon slices in a large cast iron or stainless steel pan. Don't use a nonstick pan. Apply the lit Searzall evenly to the bacon slices, getting just a bit of crispy char, or to your desired doneness.
Optionally you can do this while cooking the underside of the bacon with the range (get the pan hot first though!). But keeping one side tender, not crisped, and yet still cooked is something to try.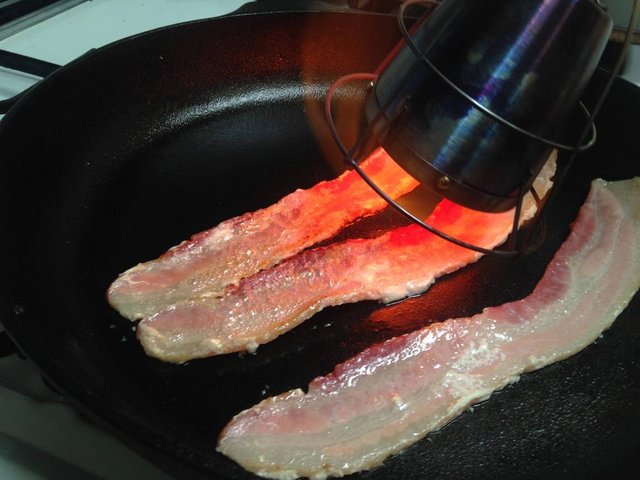 After Searzalling: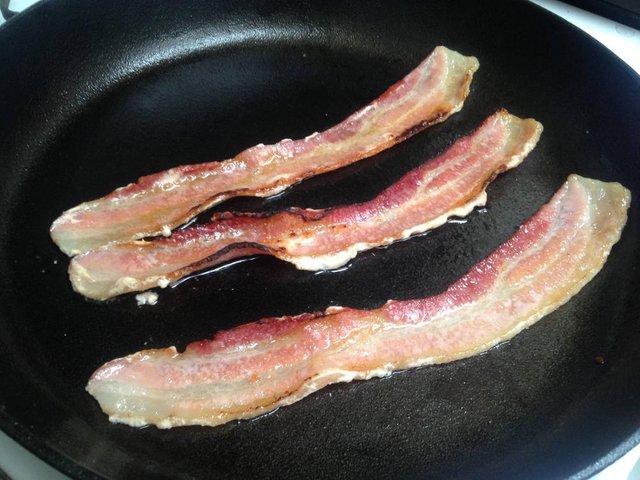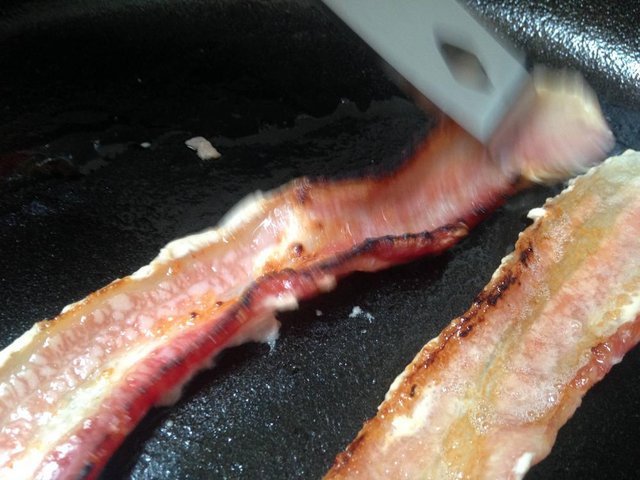 At this point your bacon is tender and juicy on one side and crispy and browned on the other. It makes for a really fresh take on a breakfast staple.
If you don't have a Searzall but have a sous vide machine, no problem. Using a hot pan or griddle to finish it with a bit of crispness also makes for a great bacon.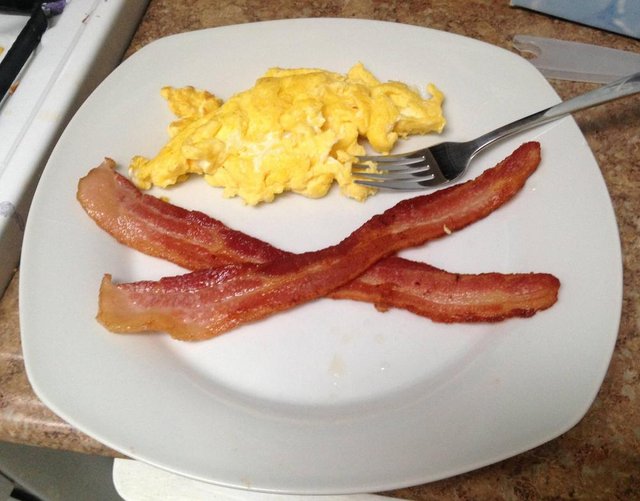 And of course, eat and enjoy! I'd love to hear your questions or comments.