Introduction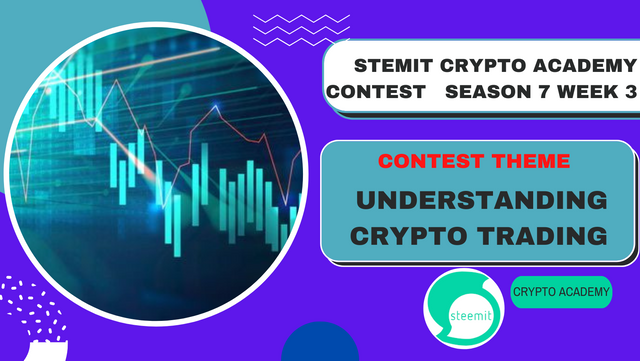 We are delighted in welcoming y'all to this week's Engagement Challenge as we are already into week3. We still have up to week-06 to remain together in the Academy. We hope you will continue to be sharing more of your knowledge about the crypto ecosystem with the audience

Understanding Crypto Trading
Crypto Traders now our day like to trade on cryptocurrency and trading on cryptocurrency is always very risky because of how volatile the market is. However, once we can be able to predict the market correctly, we can definitely increase our portfolios and earn wealth, otherwise not.
Just as all businesses have their various principles in other to make it right, crypto trading also have principles. Once one can study and follow this principles, there's no magic of him losing in crypto trading.
Crypto Trading requires risk management in order to maximize our profits and minimize our losses and they are key concepts in managing this risk in the crypto market. So knowing this key concepts are always beneficial to all crypto trader
This brings us to the theme of our topic today "Understanding Crypto Trading". Traders always try as much as possible to build their portfolio over time with the financial assets either by buying crypto assets to sell later at a higher price or they can as well borrow an asset to sell high, and then buying it back lower later for a profit. All this involve trading and if we all understand this various strategies, we can be able to earn alot of wealth

What is Expected in the Contest?
Explain your understanding on crypto currency trading and tell us what you understand by the word "trading"

What are the trading principles to always keep in mind as a Crypto Trader and how can you build your own crypto trading strategy

Explain how you can use Fundamental analysis to generate your own Crypto Trading Ideas

Explain how you can use Technical analysis when trading on Crypto

Explain the 3 key concepts of Risk Management every new Crypto Trader Should Know

Contest Guidelines
Post your articles in the Steemit Crypto Academy community. The participation time is between Monday, January 23rd, 2022, 00:00 UTC to Sunday, January 29th, 2022, 23:59 UTC.

The article should be at a minimum of 500 words. You can write more. Your article must be free of any form of plagiarism.

Your article title should be Steemit Crypto Academy Contest / S7W3 - Understanding Crypto Trading . Add the tag #cryptoacademy-s7w3 and other relevant tags.

Participants must be verified and active users on the platform.

The community moderators would be leaving quality assessments on your articles and probable upvotes.

In addition, your article must get at least 10 upvotes and 5 valid comments to count as valid in the contest, so ensure you interact with other users' entries. Do not be involved in vote-buying.
Rewards
SC01 would be checking on the entire 7 participating communities and upvoting outstanding content. Upvote is not guaranteed for all articles. Kindly take note.
At the end of the week, we would nominate top 3 users that had performed well in the contest and they would be eligible for votes from SC01/SC02.
---
Important Notice: The nomination of the top 3 users in our community is not based on good grades alone, it includes their general engagements (quality and quantity of their interactions with other users' articles) to measure the overall performance. Also note that generally, you can only make one post per day in the Steemit Engagement Challenge.

Conclusion
It's a pleasure continuing with y'all in week 3 of the engagement challenge at the crypto academy. We believe that y'all will share to us on this contest topic and we will get to learn alot from one another as this is a vital topic because of how millions of people are into crypto trading. So we hope everyone will have good information to say about this topic.
Please always remember to stay original and give in-depth analysis to all the required contest questions so as to gain maximum scores.