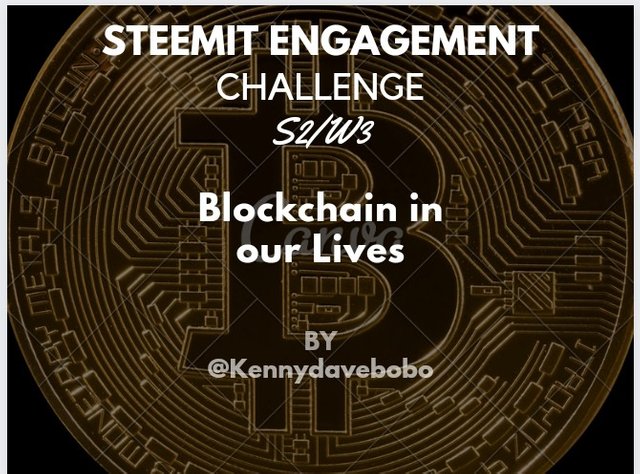 Pleasant greetings to all members of this great community, I'm happy to participate in this contest in which I will be elaborating on Blockchain in our lives.
Sit back and enjoy your reading

Blockchain is changing everyday life for everyone, what is your opinion on the matter.

Blockchain goes beyond the technology of bitcoin, Ethereum, Steem and other related cryptocurrencies. Blockchain however determine the cause of an event of every individual due to the fact the it has been integrated into many sectors of life. And some of these sectors are what everyone in the modern word relate with in almost all our day-to-day activities.
As will know that Blockchain technology is the system whereby informations are stored in a way that makes it difficult or better still impossible to be changed, hack or cheat the system made possible by the operating with some mechanisms such as immutability and concensus and others. These features ensures that the data stored are authentic and irreplaceable.
The smooth operation of Blockchain technology using some unique features as so far change the everyday life for everyone regarding digital world. The technology is gaining more wide adoption every single day.
✓ So many sectors are being built on Blockchain technology for collection, storage as well as retrieving of informations and data such as education system, Hospital and military sector.
✓ Blockchain as brought about transformation in economy's digital assets.
✓ Blockchain as help to protect assets by setting organization boundary for intermediary.
✓ Blockchain technology helps to govern transactions and interactions between individuals, communities and nations at large.
✓ Blockchain technology mechanisms is being adopted in electoral process which governs voting process and guarantees accuracy.
In a nutshell blockchain technology has made lives more comfortable and easy. Some activities that requires strength, power and crowd can now be carried out with ease digitally through blockchain technology.

WHAT ARE THE MAIN ADVANTAGES AND DISADVANTAGES IN ADOPTING THE USE OF BLOCKCHAIN IN EVERYDAY LIFE?.

ADVANTAGES
✅ DECENTRALIZATION: This however, the undisputed main features of blockchain technology. The decentralized nature played an important role in the wide acceptance of the blockchain concept. This is an instance where an individual have total control and can independently make decision in authenticating transaction without the authorization of a third party.
This is huge advantage to the public as Blockchain completely eliminate the role intermediary plays in decision making concerning transactions.
✅ TRANSPARENCY: Blockchain operates in a way that it is open to the general public, transactions made are open to everyone to see. This however drives positive values among it users in adoption of the blockchain technology concept.
✅ NETWORK DISTRIBUTION: The decentralized nnature of blockchain technology has the ability to accommodate lots of users at the same time and allows dispensation of the same services without any practical failure on the network. Different users will always have access to multiple copies of the same information.
✅ SAVES COST: For the fact that blockchain is decentralized in nature, this allows for the validation of person-to-person transactions faster and secure. Eliminating the authorization of intermediary. The adoption of Blockchain benefits users as there's reduction in cost of transaction.
DISADVANTAGES
📌High cost of implementation: The cost of operation is low for users compare to organizations and big companies. Any firm or organization that wish to operate using blockchain will have to spend a lot of money for maintenance and sustainable network which some company can not afford to spend that much. This however has been one of the factors affecting the reduce in adoption of blockchain technology.
📌unemployment: The implementation of Blockchain has indirectly discard the need for hiring a personnel to work in some sectors. for example the job required for a intermediary is no longer needed as blockchain technology is decentralized and does not need the service of an intermediary to authenticate transactions.
📌Lost of keys: For without key there is no way to operate an account. This however scares some big organizations and companies in adopting blockchain because it is still bearable for an individual to lost private keys than for a big organizations because of the worth of assets that would be lost the loss will be unbearable because there is no way to recover the account.

DISCUSS THE FUTURE OF BLOCKCHAIN AND HOW THIS TECHNOLOGY IS IMPACTING THE WORLD.

The future looks very promising and bright for blockchain. Blockchain has immensely contributed to the growth of financial and economic sector of the world at large.
Apart from crytocurencies features of Blockchain, it can also be implemented in some other applications like healthcare, voting, music, welfare benefits, artist royalties and gambling.
Let's take a look at how blockchain will present its adoption benefits and usefulness in the near future through following sectors.
✅ Global Recognition And Acceptance
Gaining global recognition and acceptance has been one of the major priority of blockchain, this looks promising to achieve, as in no time governments worldwide might incorporate blockchain technology to conduct many operations, from voting to communication and payment systems. The profitable technology is gradually or let me say drastically gaining the attention of big tech companies. Big investors are investing in cryptocurrencies network because of its profitable features. Countries such as Australia are making step to incorporate blockchain technology for local voting system. UK is thinking of incorporating blockchain technology to monitor and track welfare distribution.
FINANCE SECTOR
Finance aspect is yet to experience the best version of blockchain technology as better and faster experience are being predicted in the future while it keeps revised, reviewed and improving every day. Let's look at the following example of how blockchain will impact the world in the near future in financial sector.
✅ International Business Machine Blockchain World Wire (IBM): To make cross-borders transaction, series of intermediaries is required for both clearing and settlement. In which this process delays transaction. IBM's Blockchain World Wire is predicted to enables conduit use the Stellar protocol which allows banks to clear and settle cross-borders payments almost immediately and effectively.
✅ AZA Finance: This is one of many innovations in which blockchain has introduced. Aza finance is built on blockchain technology where small business can send and collect payments to and from Africa. This is done by converting fiat currencies into stablecoins rather than U.S dollars when trading. AZA therefore enables that it can reduce the reliance on dollar dominant system. Now trade efficiency will increase.
These are some of the fascinating benefits and impact of adoption of blockchain as regards to financial sector now let's move on to another.
✅ Most demand technology
Blockchain has proven that it will be the most in-demand technology in the near future because of its uniqueness, irreplaceable and immutable features and security level. As blockchain technology gets revised, reviewed it gets adapted to solving and handles more complex problem. Job opportunities are being created as it calling for more experienced developer to improve its effectiveness.

What is your opinion about the implementation of blockchains in the health sector? Has the implementation been positive or negative? Explain a use case

Health Innovations using blockchain technology will cause a notable improvement in health sector. Some of the issues currently facing the sector like low security nature of patient's data, management of medical products and equipment's supply chain, payment of medical personnel salaries and so on will be improved.
Other applications are as follow:
📌Protection of healthcare data: Implementation of blockchain technology will ensure that patients data and informations are stored in a very secured and unauthorized to a third party for access. Digital data of patients will be accessible only by hospitals and healthcare administrators
📌MedicalChain– This like a chain format created for user centric-digital health record which can be shared to doctors easily. All information is securely stored in audit format and it is transparent.
CONCLUSION
Blockchain has slash the cost of transactions and reshape the economy in many ways.
blockchain has brought about so many development and shift of power from our centralized government body and big organizations. Blockchain innovation has improve the way datas are safely stored. The future of blockchain is very promising and will soon be implemented in almost all sectors of life .
THANKS FOR READING
I will like to use this medium to humbly invite my friends @olawole111, @bolaji01, @ojerindejoel, to participate in this interesting contest.