Hi Steemains,
Today, we will explore in this article how Kyber began its mission to provide a seamless exchange of an entire ecosystem for decentralized financing applications on Ethereum, as part of the homework requested by professor @gbenga during the fourth week, I wish you a good read and don't hesitate to leave me comments if you have any questions.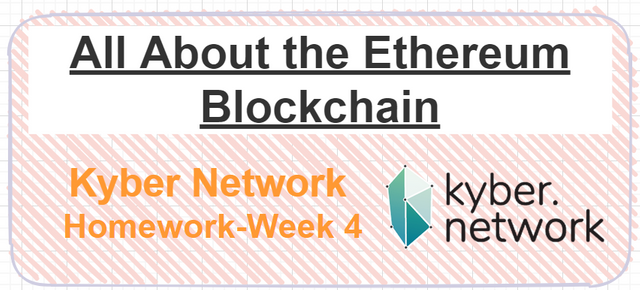 What is Ethereum (ETH)?
Put simply, Ethereum is a global computer: secure, always on, and anyone can use and program however they want. It is also important to note that anything done using this computer is public.


Source
Ethereum is a platform based on blockchain technology that allows developers to build and deploy decentralized applications or DApps (for decentralized applications). While Bitcoin's primary role is to transfer virtual currency, Ethereum's is to run the program of any decentralized application. Instead of investing in servers, developers will put the application on the Ethereum network.
The Ethereum blockchain is currently secured by Proof-of-Work (miners use computing power to secure the network) but this security should evolve towards Proof-of-Stake with the switch to Ethereum2.0.
Many projects are being built on this decentralized network, including projects related to decentralized finance (DeFi) which allow anyone to lend or borrow crypto-currencies among it we find Kyber Network.

What is the Kyber Network?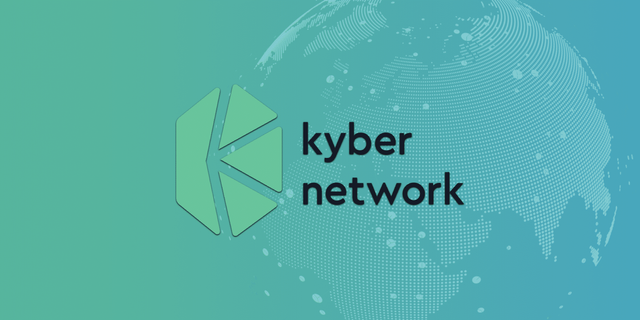 Source
Kyber Network is a project that allows you to exchange or convert different crypto-assets instantly via its blockchain.
It is based on the Ethereum protocol. The project is quite close to 0x (ZRX).
Kyber Network offers a kind of decentralized exchange whose transactions take place on its blockchain. It does not provide its users with an order book. When a user wishes to carry out a transaction, the platform automatically converts the crypto-asset that he wishes to use into the crypto-asset that he wishes to send.

How does the Kyber Network work?
It is used as a means to transfer different cryptocurrency tokens from one person to another, without having to go through an exchange site as we know them.
Kyber will offer users a fixed rate for performing a token exchange and they will be free to accept it or not.
Consider the following example. A must send 20 ETH to B, but B only wants to receive BTC. Kyber Network is aware that A wants to trade ETH for BTC. He then offers a rate of 50 Ethers against 1 bitcoin. In this specific case, B should therefore receive a total of 0.4 BTC.
Before authorizing the transaction, the Kyber network will verify that A has the sufficient number of ETH to obtain 0.4 BTC and will agree to process the transaction, taking a small commission in the process.
A, via the Kyber Network, will therefore have been able to send BTC to B without having resorted to the use of an exchange to convert its Ethers into bitcoin.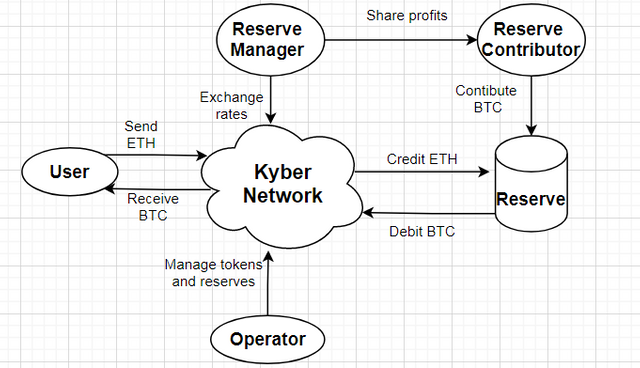 The different actors within the Kyber Network
To function properly, the Kyber Network is divided into several actors who each take care of a specific task. These interact with Kyber's smart contract:
The users: They are the ones who will send and receive tokens via the network.
The "reserve entities": They are the ones who bring liquidity to the platform.
The "reserve contributor": They are the ones who provide the funds to the "reserve entities".
The "reserve managers":They are the ones who manage the level of funds available in the reserves, who calculate the exchange rates and who decide on the commissions charged by the network.
The "Dynamic Reserve Pool"
The Kyber Network manages its liquidity through what is called the "dynamic reserve pool". This pool contains all the "reserve entities" that operate on the network. It is a place where cryptocurrencies are ready to be exchanged or converted.
KNC is an ERC20 token that a "reserve manager" must buy if he wishes to manage a reserve on the network.
How to use KyberSwap?
This is the name given to the system allowing you to convert your tokens in a few clicks! You must have access to your Ethereum address and have funds there.

Click "Swap" to agree to the terms. You can access KyberSwap in different ways like, MetaMask JSON file, Private key ...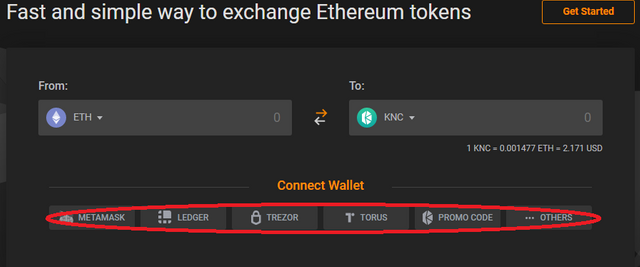 Connect with MetaMask wallet: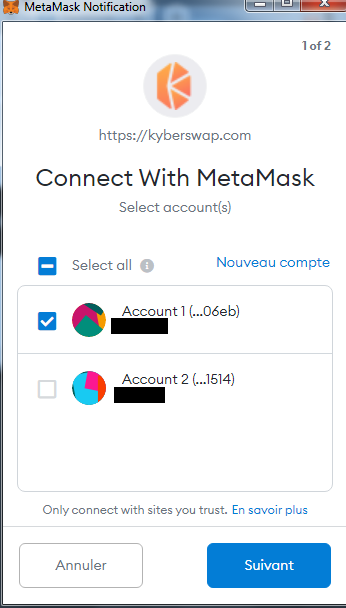 Once logged in, the platform looks like this: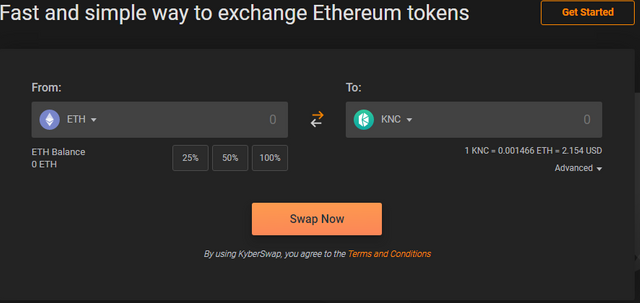 At the top it is possible to click on "TRANSFER" to go to the page allowing to transfer tokens.
Your Wallet Address: varies according to your connection type, it is indicated Metamask Address when you connect with Metamask ...
You just have to indicate the number of ETH you want to convert into KNC then click on Swap.You will then have a
summary and you can confirm.
Advantages
Possibility of sending the crypto-asset of your choice to a person who will receive the one of their choice without having to first convert their tokens on an exchange site.

Competition between different reserves in order to offer the most advantageous exchange rate possible to users.

The number of KNCs will decrease over time via a token burn after each transaction, so the token should gain in value the more popular the project becomes.

The user who wishes to send crypto-assets does not need to hold KNC tokens.
Disadvantages
The number of tokens reserved for the team and the advisors is aberrant.

Network governance will first be centralized and managed by the development team.

It will not be possible to send all cryptocurrencies. Only those authorized by the network can be used, which could hamper the development of the project.

KNC token staking on KyberDAO
Traders of KNC (Kyber Network Crystal) tokens can therefore do staking and participate in the KyberDAO governance system who are rewarded in Ethereum (ETH) for this participation.

How to do KNC staking?
You have to go to kyber.org, on the site, there is a procedure to follow in order to put your KNC tokens in staking on KyberDAO.
Kyber Network recommends using the following Ethereum wallets to connect to Kyber.org: Metamask, Ledger, Trezor, WalletConnect, or WalletLink.
Decentralized process, you therefore connect your Ethereum crypto wallet where you store your KNC tokens in order to put them in staking on KyberDAO.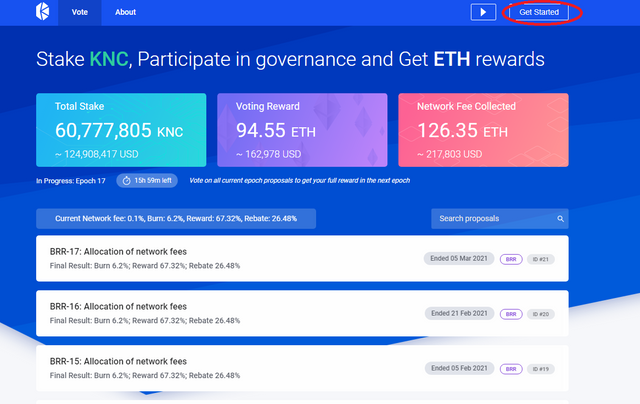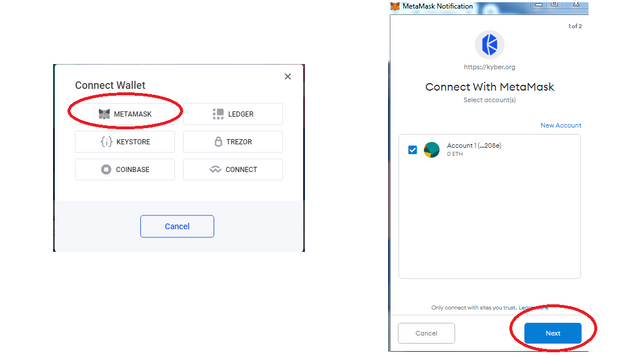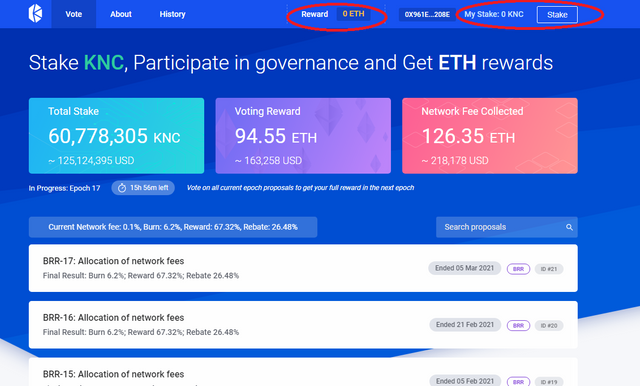 KNC staking is remunerated with ETH rewards from commissions earned on trading activities on the platform.

Conclusion :
Kyber Network is an interesting protocol that can provide fluidity, security, and liquidity for performing cryptoasset exchanges. The project combines a clever store of value system and an on-chain trading system that facilitates inter-crypto transfers. However, the black spots of the project should not be overlooked. Kyber Networ faces serious competitors, some of whom already have a working product.

Cc:-
@steemitblog
@steemcurator01
@steemcurator02
@gbenga

The post payout is set to "Power Up 100%".