It's been yet another great Crypto education week on steemit. Thanks so much to all my Crypto students that managed to attend the 4th – week Crypto academy course. I believe every one of you learnt something new from the "DeFi" lecture and the given homework task.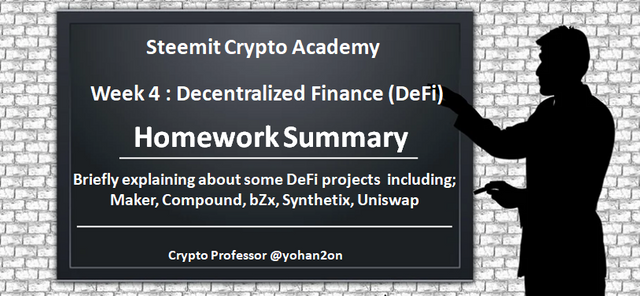 Background image:Pixabay
For this week, I received 118 homework task articles that were submitted in by various Crypto students from different countries of the world and I have so far managed to provide feedback on almost all of them; It's just a few articles remaining that were posted on the deadline. If I haven't reviewed your article kindly drop a link to it on this homework summary article in the comment section below and I will come to it right away.
Many Crypto students excelled highly in the Homework task 4. This time around it has been quite a tough decision to select the Top 3 articles out of a whole bunch of excellent articles published by the various brilliant crypto students.
Top posts for week -4 (Introduction to Decentralized Finance –DeFi)
---
Here is what transpired in the last week's Crypto academy Homework task
I found some Crypto students with plagiarized content and that was not a good thing. Plagiarism is highly prohibited on Steemit and will surely not be tolerated.
Some of the Crypto Students I caught with plagiarized content pleaded that I should excuse them so that they simply correct those particular plagiarized areas in their articles by attaching the required references to that borrowed work. Kindly, note that, once you are discovered with plagiarized content in your article, your homework task article for that week is disqualified. The rule is clear No plagiarism
We've also discovered that some steemit users have developed new tricks of plagiarism. Some have looked out for youtube videos and transcribed content of vlogers on youtube and used it in their homework task articles with no reference to it. That is also plagiarism. This week, together with my team of fellow Crypto professors we managed to catch some steemians in that bad content habit. What a shame!
It has also come to my notice that some Crypto students are having more than one account which they deliberately use to scam the Crypto academy community with several scam posts (plagiarized posts). By doing so you are doing nothing but trying to game the steemit reward pool. I have my eyes on you and I will keep tracking you and your other scam accounts.
Some were also using a trick of posting huge articles of over 3000words with plenty of unedited and plagiarized content and trying to hide away from being caught in the bad content habit of plagiarism. However, they did not succeed, I got them.
Some repeat offenders have registered for themselves a bad reputation among all the Crypto professors and we and the steemit team are yet to conclude on what to do with them.
How to Improve on the quality of your articles
Proofreading your work or through Using Grammarly web tool. This tool will help you in identifying any grammatical errors in your article and also help to suggest for you the correct words to use.
Be creative in your articles. You may want to design some original graphics for your content.
Be original. Use less borrowed referenced work if you must.
Do enough research work so that you can present your work confidently from a well informed point of view.
A piece of advice, words of wisdom and encouragement to my Crypto students
The Steemit Crypto academy initiative is a very valuable thing. Let's all just treat it with respect by opting to do the right thing. It's meant to build up your knowledge base on all things "Crypto and Blockchain technology" alongside motivating you with some great rewards for educating yourself. Yes, Steemit needs your engagement on its platform but also your proper ethical and professional engagement. At the end of the day, it's a win-win for all of us.
As a matter of fact some of you, writing/blogging has never been your thing and you are now just trying to force yourself into the writing lifestyle on steemit because of the rewards. My advice to you is that just Keep at it, keep pushing yourself, that's how we all began here. Try today, tomorrow and the other day. Over and over again; you will eventually see yourself improving and becoming that professional blogger that you desire to be.
Whatsoever you do, do it with passion.
Guidelines for week 5 Homework task
Post all your homework task articles in the Crypto academy community.
Your post should be between 300 – 1000words
Use an exclusive tag #yohan2on-week5 and also tag me (@yohan2on) in your article so that i can easily find your article.
Use copy-right free images and showcase their source.
Plagiarism and spinning of articles are highly prohibited and they will not be tolerated on Steemit.
The 5th homework task runs till 14th/03/2021