Greetings Steemians,
I hope you've had a smooth transition into 2020!
Going into this new year, I felt it's time for another witness post.
---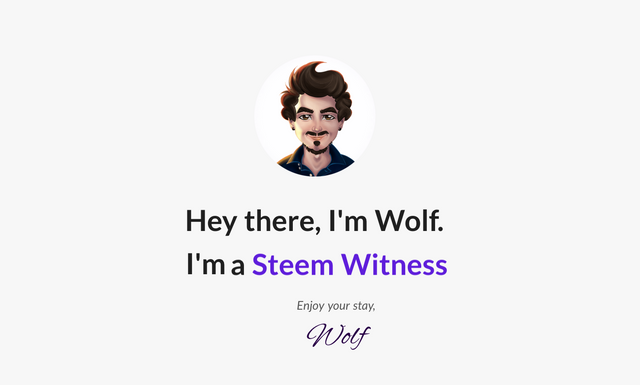 therealwolf.me
---
You might have noticed that my posting frequency hasn't been high recently. But rest assured: I'm still here!
Considering that Steemit Communities are now in Beta and with fewer people trying to get a piece of the rewards pool, now is actually the perfect time to be active on Steem.
Now, while I don't post, I'm still around and participate in discussions on/about Steem, which are sadly all-too-often not on-chain.
---
In general, over the past 2 years, as my experience & skills have matured, my priorities have changed a bit as well.
My primary goal right now is to provide/maintain stable & reliable services/products. Which of course includes my witness infrastructure, as well as the different non-profit tools I've developed.
Now, if you're not exactly sure what these tools, here's a small reminder.
SteemApps.com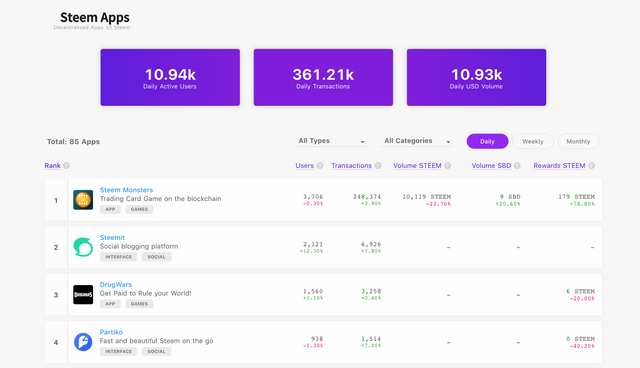 A bit over a year ago, I've released SteemApps.com, a website that is displaying data for applications on Steem, as well as providing an API/data-source for 3rd party services for free, i.e: State of the Dapps.
The most important goal here right now is to make sure that the API is reliable and that it keeps on running. (covering the costs, ..)
Witness Essentials Toolkit
As non-witness, you've probably not used the following tools, but as a Steem Witness, those are highly valuable & critical for the daily work any given witness has to do.
Pricefeed

https://github.com/witness-essentials/pricefeed
One of the tasks a Steem Witness has to fulfil is to produce a reliable & active pricefeed, the market price of STEEM at any given time.
These are usually updated every 1-4 hours, as Steem needs these for internal calculations (for example: the reward payouts, etc.)
---
Watcher

https://github.com/witness-essentials/watcher
The primary task of a witness is to sign blocks. This is being done with a software called steemd. So it's highly important that said software is running. And to make sure this is happening, the Watcher app is in existence.
For example, if a server has a technical problem and steemd isn't running anymore, instead of the witness missing blocks and possibly sabotaging the security of the network, the Watcher is registering missed blocks and switches (failover) to another server, running steemd. If there's none available or it's down as well, the witness is disabled and another one can take its slot until the problem has been resolved.
---
CLI

https://github.com/witness-essentials/cli
CLI stands for command line interface and is used to quickly send commands into the Steem blockchain.
For example, when the blockchain was halted multiple times last year, the way I interacted with the blockchain to make sure the correct server was being seen as a valid block-producer was exactly with this tool. Supercritical.
---
Remote Control

https://github.com/witness-essentials/remote
This is probably one of the most underrated apps in the toolkit: Remote, which allows any Witness to interact with the blockchain via telegram, as well as receiving notifications in case a server is malfunctioning, etc.
Personally, this tool gives me the peace of mind of knowing that nearly wherever I am, I'm able to do my duty as a Steem Witness, i.e disabling servers or switching them, in case all else failed.
Witness Schedule

https://therealwolf.me/schedule
This is not exactly part of the Witness Essentials Toolkit. However, it is part of my workflow and something I wouldn't want to miss.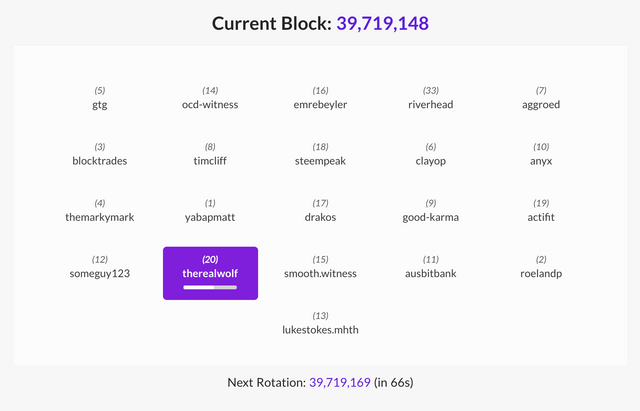 Being able to know when exactly my turn of producing a block is, tends to be quite useful often. Besides that, it's also mesmerising to watch.
Bonus: Jarvis
https://github.com/therealwolf42/steem-jarvis
Last but not least, we've got our good friend, Jarvis.
Now, this app is actually for everyone who wants to automate certain interactions on Steem (i.e transfers, rewards claiming, etc.)
For more info: https://steemit.com/steem/@therealwolf/introducing-jarvis-your-personal-assistant-for-steem
---
You're still here?
Awesome!
As I wrote at the beginning of this post, I'm still here and I hope this post made it a bit clearer what I exactly mean with that.
May the force be strong with you in 2020,
Wolf
---

Do you believe that my work is valuable for Steem? Then please vote for me as witness.