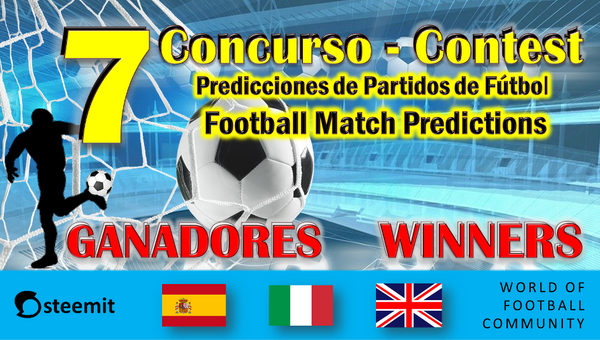 Fuente-Source: Arte final @marcybetancourt / Final art @marcybetancourt
* * *
ESPAÑOL
Hola amigos del fútbol. El 7mo Concurso de Predicciones del Fútbol tiene resultados asombrosos ya que la competición estuvo muy reñida!

Debido a disturbios de los hinchas del Manchester United, el partido pautado para el domingo 2 de mayo entre este club y el Liverpool, en la Premier League, fue suspendido Aviso importante 7mo Concurso Predicciones de Partidos de Fútbol (Ganadores Jueves 13/5)
No obstante, tuvimos unas predicciones fantásticas porque además de acertar el equipo ganador o empate, varios resultados fueron exactos.
Varios competidores lucharon hasta el final para ganar. @sumanthp, @jjho, @brahmaputra, @tanhunter254, @zonkork, @eunice001, @yormanj90 y @josesan26 lo hicieron magnífico!
Les recuerdo que hicimos el concurso de predicciones para los partidos de tres Ligas Europeas: La Liga española, la Serie A italiana, y la Premier League de Inglaterra, que se realizaron el sábado 01 de mayo y el domingo 02 de abril. He aquí sus predicciones CERRADO 7mo Concurso Predicciones de Partidos de Fútbol
¡Finalmente, tenemos ganadores!
Las predicciones tienen la peculiaridad de combinar los conocimientos del fútbol con la suerte. Con relación a los partidos, en esta oportunidad hubo muchos aciertos pero sobre todo gran asertividad.
En total se podían conseguir 105 puntos.
Deseo que revisen la tabla de resultados. Si hubo error humano de mi parte, por favor indíquelo en la caja de comentarios de esta publicación para hacer las correcciones. Si todo está correcto, mañana haré las transferencias para los ganadores. Los cálculos se hicieron a través de dos métodos diferentes y estos son sus resultados.
Por lo ajustado de los resultados además de la sumatoria total, incluiré, como lo he venido haciendo, la tabla en donde podrán visualizar las sumatorias de puntos por ligas, según sus predicciones.
Pero primero vamos a ver cuáles fueron los resultados de los juegos.

ENGLISH
Hello football friends. The 7th Football Predictions Contest has amazing results as the competition was very close!

Due to rioting by Manchester United fans, the match scheduled for Sunday, May 2 between Manchester United and Liverpool in the Premier League was suspended Important notice 7th Football Match Predictions Contest (Winners Thursday 13/5).
Last weekend I experienced an intense and dramatic day of football games. The predictions were incredible and accurate. It's the first time that in the predictions there was a lot of knowledge of the leagues and clubs. Chance was present but the participants who demonstrated their knowledge of football won.
Nevertheless, we had some fantastic predictions because in addition to getting the winning team, or tie, right, several scores were accurate.
Several competitors fought to the end to win. @sumanthp, @jjjho, @brahmaputra, @tanhunter254, @zonkork, @eunice001, @yormanj90, and @josesan26, did superb!
I remind you that we did the predictions contest for the matches of three European Leagues: the Spanish La Liga, the Italian Serie A, and the English Premier League, which took place on Saturday, May 01 and Sunday, April 02. Here are their predictions CLOSED 7th Football Match Predictions Contest.
Finally, we have winners!
Predictions have the peculiarity of combining soccer knowledge with luck. Regarding the matches, this time there were many correct predictions but above all great assertiveness.
In total 105 points could be obtained.
I would like you to review the results table. If there was human error on my part, please indicate it in the comment box of this post to make corrections. If everything is correct, I will make the transfer for the winner tomorrow. The calculations were done through two different methods, and these are their results.
Due to the tightness of the results, in addition to the total sum, I will include, as I have been doing, the table where you will be able to visualize the point totals by leagues, according to your predictions.
But first let's see the results of the matches.


La Liga
| Equipo Team | Marcador Score | Equipo Team |
| --- | --- | --- |
| Elche | 0-1 | Atlético Madrid |
| Real Madrid | 2-0 | Osasuna |
| Villareal | 1-0 | Getafe |
| Granada | 0-1 | Cadiz |
| Valencia | 2-3 | Barcelona |


Serie A
| Equipo Team | Marcador Score | Equipo Team |
| --- | --- | --- |
| Hellas Verona | 1-1 | Spezia |
| Milan | 2-0 | Benevento |
| Sassuolo | 1-1 | Atalanta |
| Udinese | 1-2 | Juventus |
| Sampdoria | 2-0 | Roma |


Premier League
| Equipo Team | Marcador Score | Equipo Team |
| --- | --- | --- |
| Chelsea | 2-0 | Fulham |
| Everton | 1-2 | Aston Villa |
| Newcastle | 0-2 | Arsenal |
| Manchester United | 2-4 | Liverpool |
| Tottenham | 4-0 | Sheffield United |


GANADORES - WINNERS
| Posición (Position) | Steem | Usuario (User) |
| --- | --- | --- |
| 1er Lugar (1st Place) | 22 steem | @sumanthp |
| 2do Lugar (2nd Place) | 14 steem | @tanhunter254 |
---


Enhorabuena para los Ganadores
Congratulations to the Winners


Espero que se hayan divertido.
I hope you had fun.
Si no piden revisión mañana transfiero los premios - If no review is requested tomorrow I will transfer the prizes.
¡Saludos para todos! - Greetings to everyone!


cc:
• @njaywan
• @worldoffootball