There isn't much left on the charts in terms of resistance
There is a funny thing in financial markets known as blue skies.
It is where the price is trading higher than it has ever been.
It is seen as a moment when investors are all up on their money, no one is currently down on their investment.
For that reason, investors are seen as happy campers, and not looking to bail when they break even.
While bitcoin isn't near it's all time highs just yet, the bitcoin profitable days now stands at 98.2%.
Sees: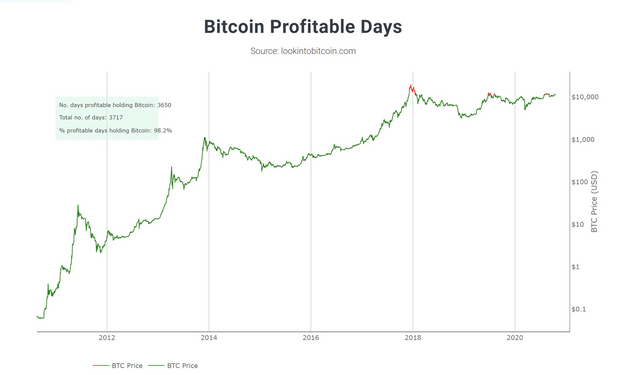 (Source: https://twitter.com/PositiveCrypto/status/1318598871401041923/photo/1)
That means that if you threw a dart and hit a chart of bitcoin, you'd have a 98% of hitting a price that is lower than the current price.
The majority of those hodling bitcoin are up on their money.
That means bitcoin investors collectively are a group of happy campers.
Yes there is mom and pop that bought in December of 2017 that aren't feeling so hot about bitcoin, but they will be happy soon enough.
The next couple months are going to be fun!