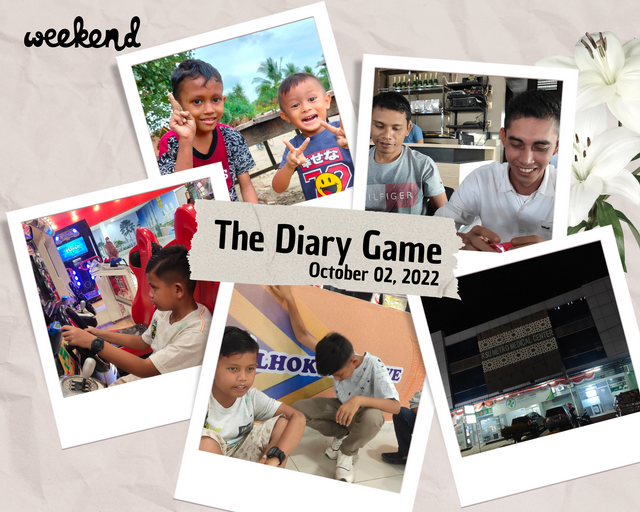 The weekend is a day that is always awaited by everyone, everyone has different plans in utilizing the weekend, some of them enjoy vacations with their families, sometimes many of them plan a weekend getaway with colleagues or for those who are single, vacation often scheduled with the weekend with his friends.
On Sunday 02 October 2022, in the morning I focus more on enjoying togetherness with my beloved little family, my two children are more comfortable when on holidays I have a lot of time with them, especially during the psychological and psychological growth and development phase, the role of parents is an important indicator support their growth and development.
At 07.15 WIB, I and my second child (Fayyadh) went to a beach tour located not far from my residence, this is an activity that I rarely do, but because he (my son) really likes sand and sea water, I invited him there. In addition to providing happiness for him, sea water which is rich in natural minerals can help overcome his skin disease, he has food allergies and skin moisture problems, so this is the right step when taking him swimming.
He seems so happy to see his friends playing, this is actually what parents expect, seeing their children always smiling and happy, because being happy doesn't require big capital, but how to take the time to spend a lot of time with them.
At 10.00 WIB we went home because I saw that the air temperature on the coast had increased and could damage the skin.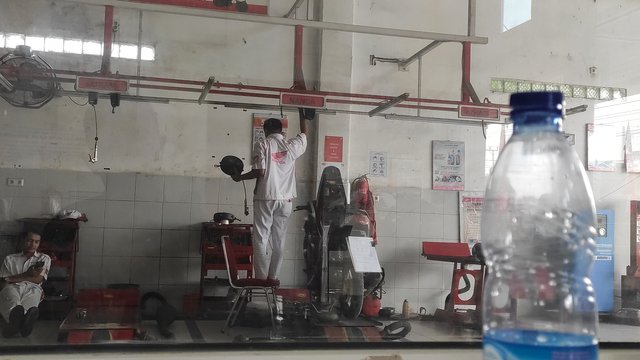 Google Map : Motorcycle Service at Gemilang Motor
Arriving at home, I also bathed Fayyadh and prepared myself to bring a Vario Matic motorbike for service, coincidentally at the beginning of every month, the management of Gemilang Motor in the field of vehicle service always sends WhatsApp notifications to perform regular service.
Exactly on September 2nd, I did the previous service, and this time, I did a complete oil change service (engine oil and automatic oil), for the service fee I spent around IDR. 110,000,- or equivalent to 33.5 STEEM (Based on Coin Market Cap Calculation).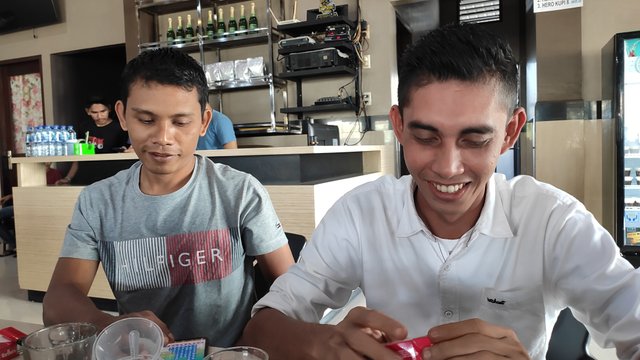 Google Map : @klen.civil & @muslizal
Vehicle service on Sundays doesn't take long considering there are no queues, my Vario train only takes 20 minutes to be serviced, then I head to Hero Coffee Planitum.
There I met one of Indonesia's Country Representatives (klen.civil), I joined him at one table. I ordered a glass of Coffee Gayo and enjoyed Sunday with them for almost 2.5 hours.
While filling my free time, I opened my MacBook Pro M1 2021, and saw the cash income of the World Smile Project and talked about the progress of the Free Education Center Development in East Aceh Regency which will soon be completed.
Besides that, we also discussed other technical matters such as the next program plan, World Smile Project Nigeria revenue and Trending Topics related Steemit promotion through social media, we immediately created a steemit promotion program through the installation of Facebook Ads so that it can be easily published on social media users.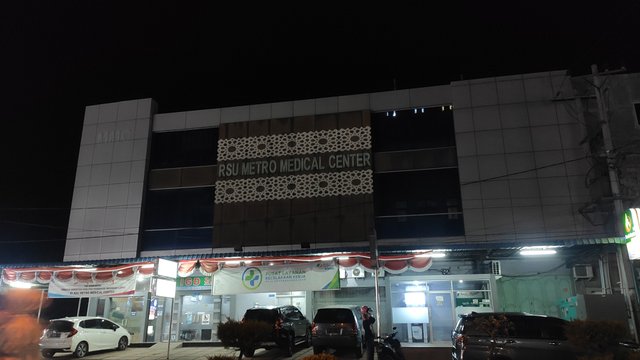 Google Map : Metro Medical Center Hospital
I also left the civil and muslizal clan at 15.30 WIB because I wanted to rest, then in the evening after performing the maghrib prayer, I also invited my two children, wife and three nephews to take a walk to Lhokseumawe City, before arriving in the City, at 20.08 WIB my wife stopped at MMC Hospital to withdraw some cash at the Automatic Teller machine (ATM) in front of the hospital.
Lhokseumawe is one of the largest cities in Aceh province, but due to decades of conflict, the city in Aceh province is not as grand as other cities in Indonesia, so there are not many choices of places that can be visited with family, but I chose Suzuya Mall as our destination.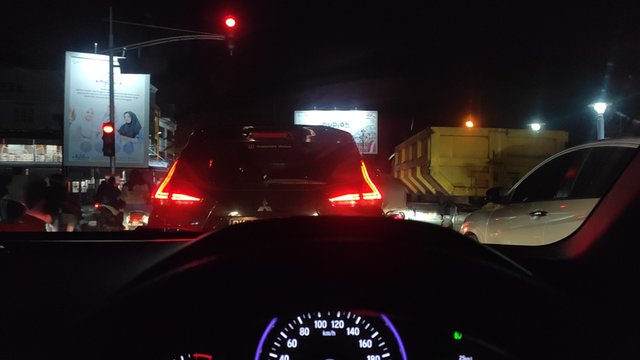 Google Map : Stuck in a traffic jam
At 20.15 WIB when we started to enter the city center, Medeka Utama road looked very congested, so we had to be a little patient so that there were no traffic accidents. The photo beside is the condition when at the Red Light Riyadah Park Lhokseumawe City.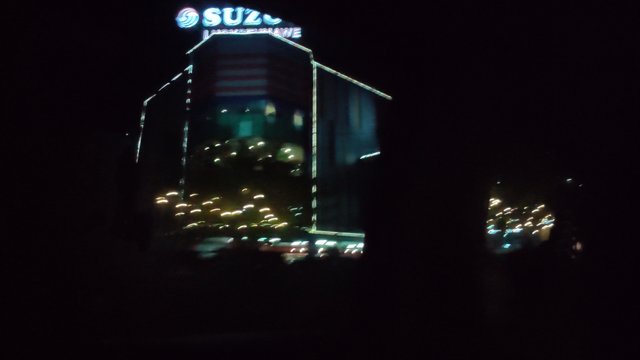 Suzuya Lhokseumawe
Five minutes later we arrived at the Bank Aceh roundabout which is located right in front of Suzuya Mall. The children looked very happy because they wanted to enter the children's play center stand.
I also parked the car in the parking lot and then went straight to the 3rd floor of the Mall to visit the children's game center. I'm just waiting for them to play in front of the center of the game, occasionally watching them play.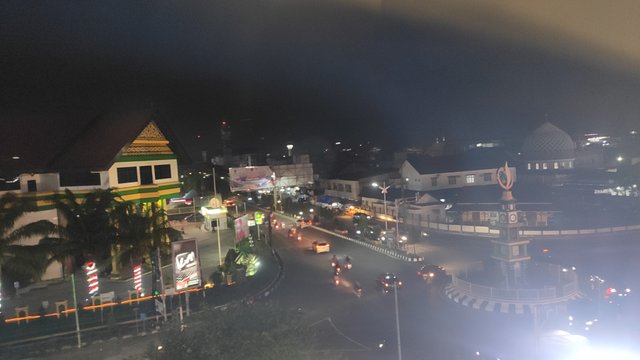 The photo beside shows the condition of Lhokseumawe City at night, the photo I took on the 3rd floor Suzuya Mall, it looks like the vehicle has started to get quiet on Jalan Merdeka Utama at 21.30 WIB. then i visited my 3 nephews who were in the other game center, i saw they were playing car racing game. Glad to see they can smile happily on holiday.
---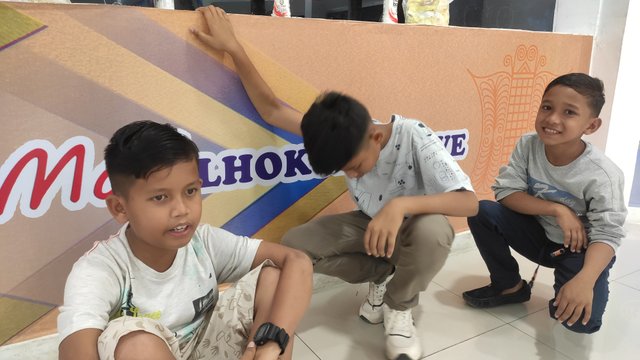 The three nephews are waiting for their time to go home (Aufa, Nafiez, Aryan)
Suzuya's closing time has arrived, at 22.00 WIB, I took them home, the trip from the city center to the residence when conditions are not jammed takes about 30 minutes if using a 4-wheeled vehicle, and we arrived home at 22.30 WIB with the condition they were sleeping in the car.
I went back to the coffee shop to meet heriadi at 22.45 WIB, I contacted him and coincidentally he was at Hibrida Coffee, there I learned about formulas to be applied to Microsoft Excel, because I did not understand in detail about the use of the MID function, the Pivot Table function, and thankfully I was able to master it well thanks to the guidance provided.
Indonesia, October 03, 2022
@irawandedy