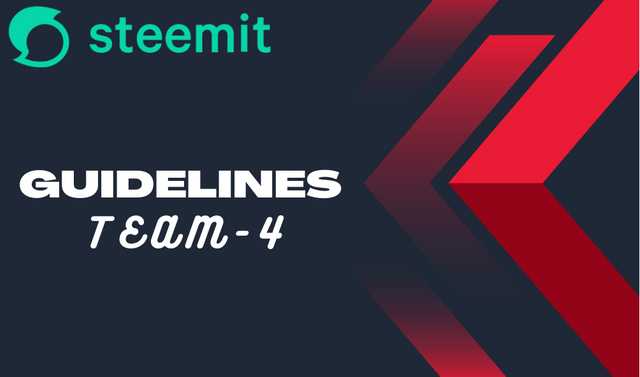 Image source on Canva
Introduction
Hello comrades 👋
I greet y'all . Trust you are all doing great. From this latest updates on Steemit Update [Nov 30th, 2022]: Community Curators for December, I'm so happy to be here to inform y'all that my team, which is Team 4 Curators was selected to work during this last month of December as curators of Steemcurator07 account by the steemit team
This Team 4 Curators is made up of 7 members namely
For this month of December, we don't have any specific #tag to curate on, so if you follow our guidelines below, you may gain support from us. Let's take a look at the guidelines
Your post can be of any category or theme

Post should be atleast 300 words and above

Post should be original, #steemexclusive and users most not use bit bot
Once any user follow this guideline rules, they are rest assured that their posts will be supported by our team
We always give preference and higher votes to authors belonging to higher club status such as #club75 and #club100. Our voting system have been discussed within our group and we came out with this
You can check your club status constantly using the using https://steemworld.org/transfer-search to know the exact amount of your transfer out and power up or Scribe tool website to know the exact % of your #club status. Always endeavor to use the right #tag on your post to keep curators on track
How to check your
#club
status
If you follow the steps below, it will be quite easy for you to check your club stats
1: You need to login in to https://steemworld.org/transfer-search
2: You will then need to adjust the date according to the club status you are to check
3: For #club50 status, set the date to the last 30 days, that is 1 month period.
4: For #club75 status, set the date to the last 60 days, that is, 2 month period.
5: For #club100 status, set the date to the last 90 days, that is 3 months period.
The screenshot above shows that I belongs to #club75 since I have transfered out a total of 330 STEEM and I have powered up an amount of 1,080 STEEM within 2months . So I am eligible to use #club75.
---
---
Plagiarism is what we are fighting against and I do believe it will soon be gotten rid of in this platform because users will always be rewarded base on PoB mechanism which means they most produce their own original content. For this reason, we should try as much as possible to always avoid plagiarism by copying content of different authors. However, it is always good to check you article for plagiarism before publishing using the plagiarism tool or DupliChecker in other to always avoid being caught up with plagiarism
---
Our Policy On Comment Support
We are keen to also be supporting valuable comments that can contribute to the growth of Steemit because they are some comments that are as good as a post. We will be voting between 5 to 10% depending on the quality of the comment. A good comment should also be having atleast 50 words and above before receiving support from us
After coming out in agreement with my team, we choosed our various healing days which are,
---
---
Above are our rules and guidelines. If anyone have doubt or questions, the comment section is open for everyone.
Blessed month to everyone
Let's steem on
My regards: @chiabertrand