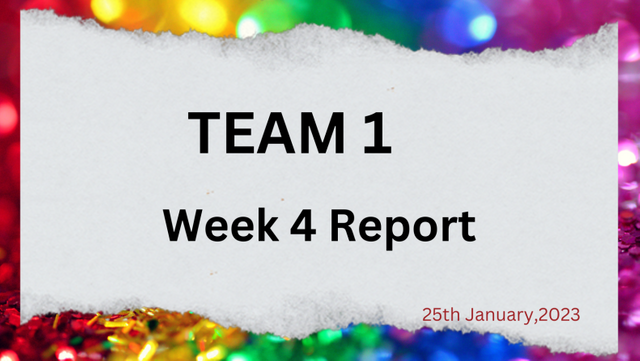 Hello dear Steemians,
Today, I would like to present you the data of last week curation that included 18/01/23 to 25/01/23 on behalf of the Steemit Curation Team 1 and my colleagues from the team:
It was another productive week and we are happy to be able to cheer up many users and to visit as many different communities and tags as possible.
Our main goal was to support the users who are producing interesting and creative posts, who also communicate with others and engage themselves in the activities on Steemit, visiting the other communities and their contests. With the opportunity of Challenges it is noticeable that many learned each other despite of coming from different countries and different communities.
We also made sure that the posts are not cross posted but also free of plagiarism.
Because it is 4 weeks of our work together, we wanted to present you the summary of our work that is divided into weeks.

Statistic for last 4 weeks:
The number of countries remained relatively stable between 22 and 24 but the number of different
The number of curated tags varied from one week to another, still we remained above 30 in both communities and tags.
| Weeks | countries | communities | tags |
| --- | --- | --- | --- |
| Week 1 | 23 | 35 | 39 |
| Week 2 | 24 | 38 | 32 |
| Week 3 | 22 | 34 | 35 |
| Week 4 | 18 | 31 | 37 |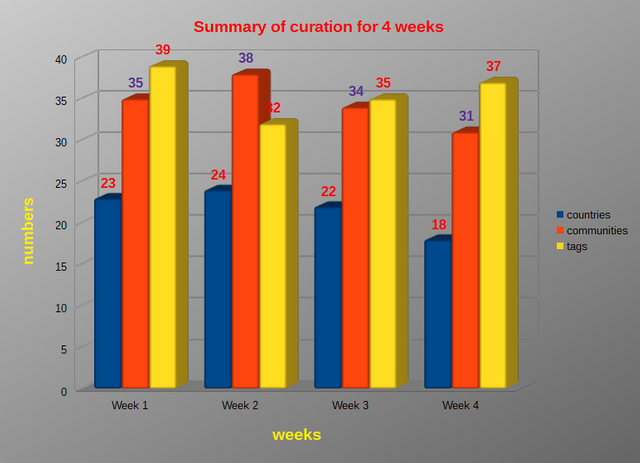 Number of posts rewarded on weekly basis:
The number of curated posts also remained stable above 144 weekly. We did our best to support the comments too, seeing that number of 14 during last week. We definitely will improve it in coming week.
| Weeks | N of posts voted | N of comments voted |
| --- | --- | --- |
| Week 1 | 144 | 12 |
| Week 2 | 149 | 17 |
| Week 3 | 149 | 17 |
| Week 4 | 147 | 14 |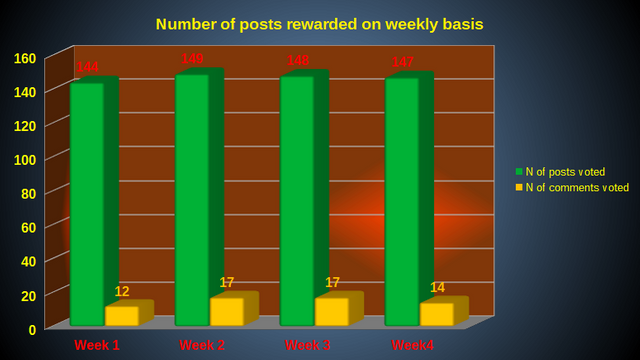 Countries covered: 18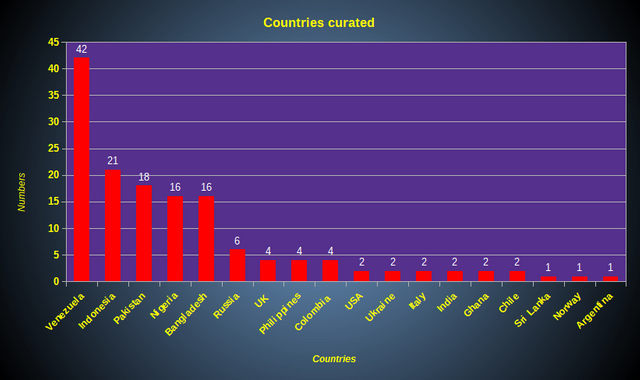 Communities Covered: 31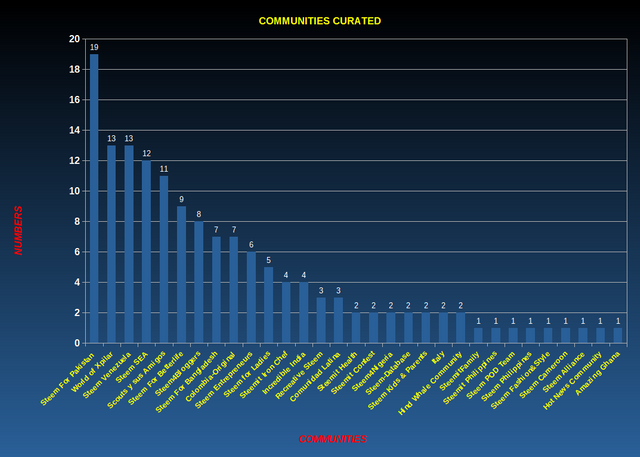 Tags covered: 37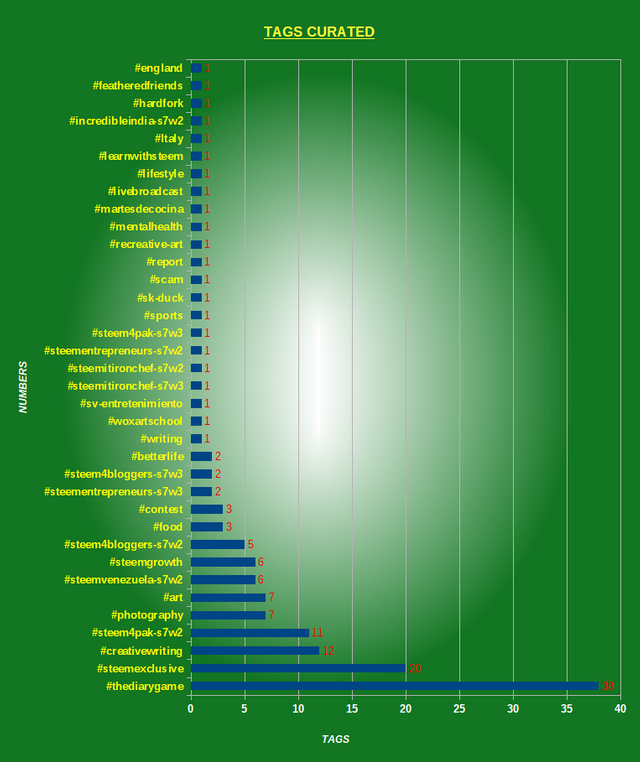 Posts curated-club status: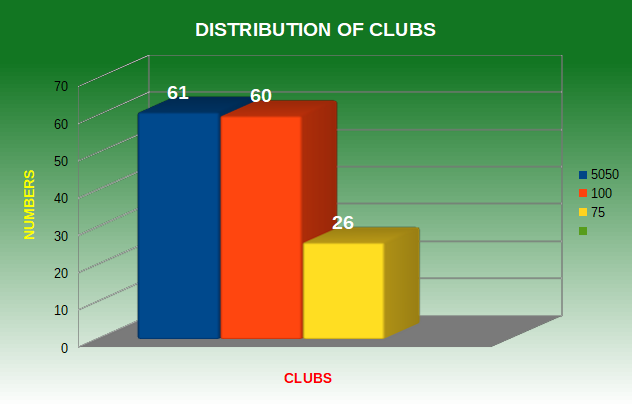 Total number of curated Posts and Comments:
Curated Posts: 147
Curated Comments: 14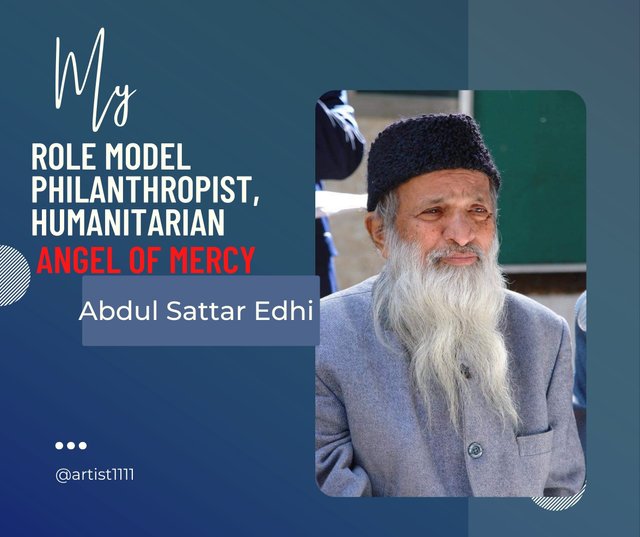 Nominated by : @fjjrg
I have chosen this post because it is a recognition to a person who has selflessly helped many people at times when they have needed real help.
It is understood that in the world there are people who make a difference and that with their simplicity, naturalness, humility and above all with all their love, they are able to give a lot for others.
In this way they make a difference and help build a better world.
Translated with www.DeepL.com/Translator (free version)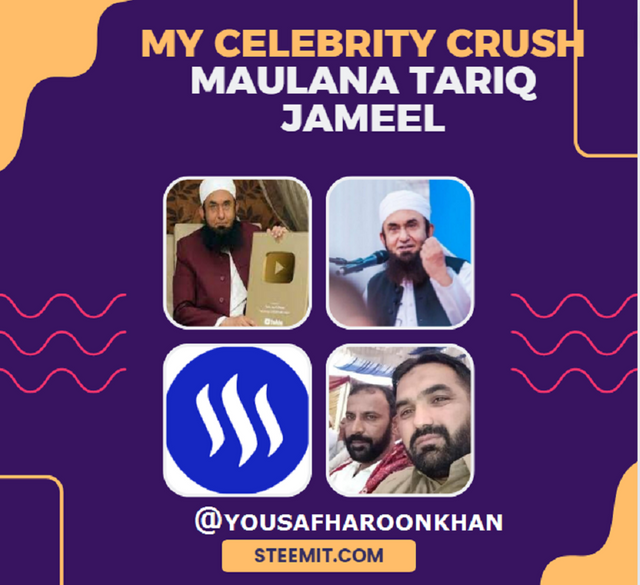 The author describes his favorite character with extraordinary admiration, everything the author describes about Maulana Tariq Jameel is based on the facts that happened. The writing described by the author is able to bring us to know the character better and is also able to make the reader admire the character.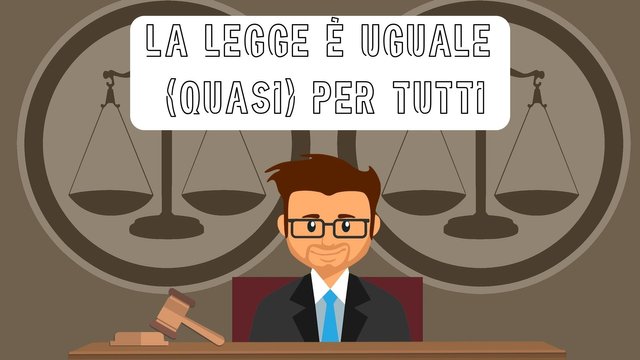 Nominated by : @stef1
Franco is like a sport reporter, he is a football fan and reading his analyses of football games, teams and any events, it is interesting to hear his opinion and point of view. Like in this article that showed how the Juventus club received 15 penalty points for false accounting and slides to the rank 10 from 3. Many people and of course, fans would have different opinion, what is right and what is wrong. Franco is also very communicative and ready for any discussion.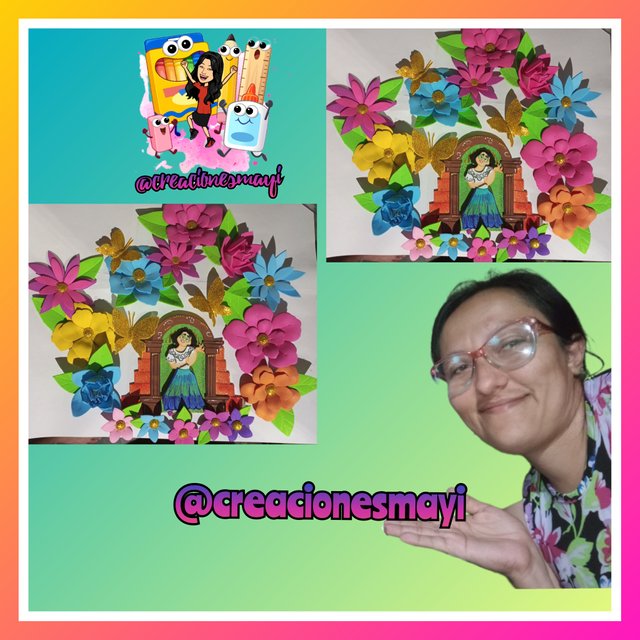 Nominated by : @naka05
ENGLISH:
@creacionesmayi shares with us a tutorial where she makes from scratch a foami decoration for one of her clients, a very well explained step by step where she teaches some tips to mold the foami.
I liked that she added a lot of details so that the toppers had a neat finish. I hope that many are motivated to create and share their talent and skills through good publications like this one.
SPANISH:
@creacionesmayi nos comparte un tutorial en donde elabora desde cero una decoración con foami para uno de sus clientes, un paso paso muy bien explicado en donde enseña algunos tips para moldear el foami.
Me gusto que haya agregado muchos detalles para que el toppers tuviera un acabado prolijo. Espero que muchos se motiven crear y compartir el talento y las habilidades a traves de buenas publicaciones como esta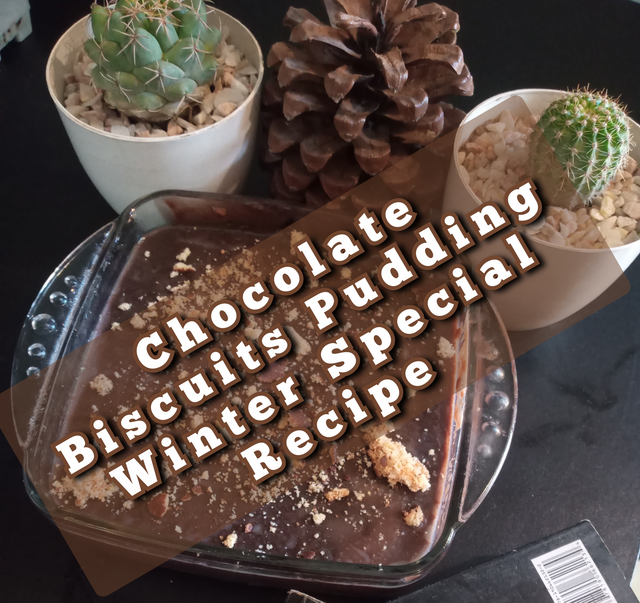 Author represents a delicious and easy chocolate dessert recipe. I like the way how she explained all steps of forming with respective pictures. Any one can make it easily by following steps.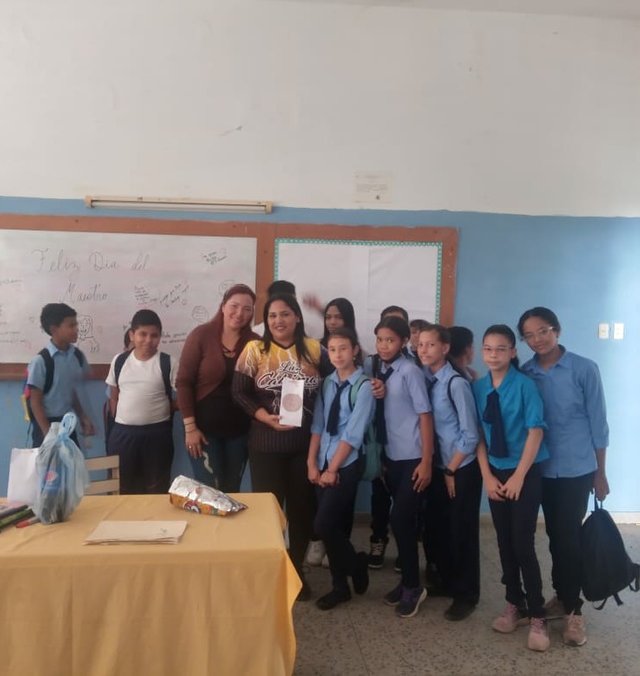 I choosed this publication because this young user was able to expressed herself sharing all her activities for the day.
It's rare to see young ones in the blog sharing their daily activities and even some Interesting stories like this.
Beign curious to take photographs in other to put up a story like this really Interest me and I feel this publication should be spotlighted, It could be a motivation for other younger ones in the blog.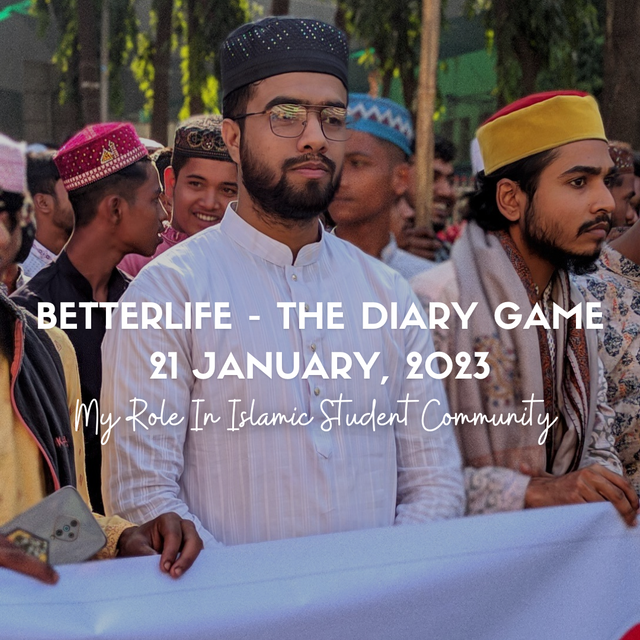 In this post ripon presents an account of one of his days. He spent his valuable time on the foundation anniversary of Bangladesh Islamic Students Conference. The main aim of this organization was to teach religious ethics to people. Many Muslim brothers from the surrounding area participated in the conference. They served lunch on the occasion. He also listens to the religious morals of wise people. Finally they ended the event with a victory rally.
 

Hope you enjoyed our report and till next week.
---
CURATION TRAIL @worldofxpilar
---