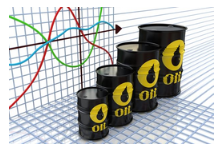 About two weeks ago, BP's Chief Financial Officer Brian Gilvary, a slowdown in the global economy resulting from the outbreak is expected to reduce 2020 worldwide oil demand growth by 300,000-500,000 barrels per day (bpd), roughly 0.5% of total demand.
The IEA slashed its demand forecast for the first quarter of 2020, predicting that global oil consumption will contract for the first time in over a decade.

In its first publication on the oil market since the outbreak began, the International Energy Agency (IEA) dramatically revised its oil demand forecast, predicting consumption will actually contract by 435,000 bpd, the first outright decline year-on-year since the global financial crisis more than a decade ago. Previously, the agency expected consumption to increase by 800,000 bpd from a year earlier.

For the full-year in 2020, the IEA cut demand growth by 365,000 bpd to just 825,000 bpd. That would be the lowest annual increase since 2011, and slightly below the growth figures for 2019, which itself was a down year.
Source
OPEC controls roughly 70% of the world's total crude oil reserves and produces about 40% of the world's total crude oil output. There have been some discussions about OPEC and their allies considering oil production cuts. Saudi Arabia had been pushing for an emergency OPEC+ meeting this month, but many think that won't happen and OPEC will meet in March as scheduled. As a result, oil had its biggest weekly gain since September as hopes for an OPEC+ emergency meeting faded.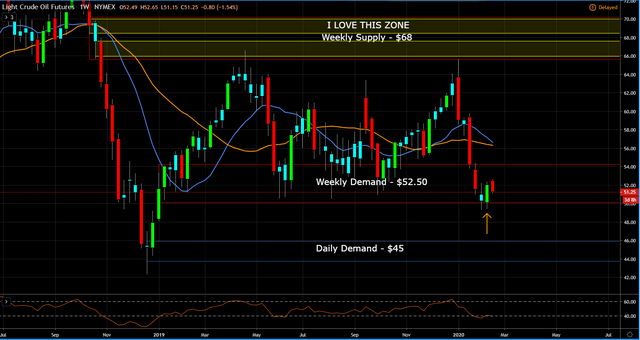 During the next OPEC+ meeting in March an advisory panel's will be recommending to lower supply 600,000 bpd. This may or many not help...it all depends on containment of the COVID-19. Many measures are being taken to try to come up with a cure for COVID-19. Even the tobacco industries is trying to help. Reynolds American, brands, is infectin tobacco plants with a genetically modified coronavirus to see if they can produce antibodies for a possible vaccine.
However, until price takes out the daily supply at $53.75, the risk is still to the downside.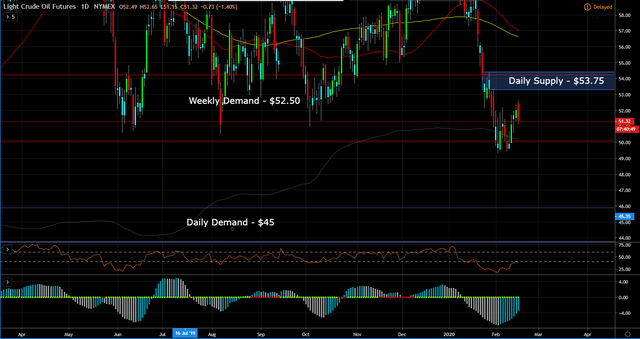 This post is my personal opinion. I'm not a financial advisor, this isn't financial advise. Do your own research before making investment decisions.

Posted via Steemleo