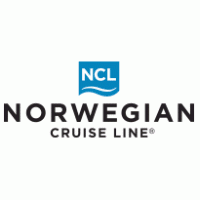 Chinese has reported 349 new cases today, the lowest daily number of infections recorded by China in weeks. However, at least 2,126 people are now dead and over 75,000 worldwide are infected.
When the COVID-19 first made headlines, the cruise ships were bound to take a hit. Among the cruise ships, Royal Caribbean was hit the hardest because Royal Caribbean generated almost 10% of its revenue from China in the last 12 months.
For example, Spectrum of the Seas, the only Royal Caribbean ship with a home port in China is now docked in Japan will cost the company every time that ship doesn't sail with passengers, $3-$4 million / voyage. Since then, Royal Caribbean immediately cancelled three of their China based cruise liner trips. They also announced these cancellations would cut their earnings by $0.10 / share and it would take an additional 10-cent hit if travel restrictions in China continued until the end of February.
Another notable headline was the Holland America Line Westerdam cruise ship which had roughly 2,000 passengers and crew aboard and once was stranded at sea because Japan wouldn't let them dock in the country. Fears of COVID-19 has prompted four different countries to deny them entry despite no one on board being diagnosed with COVID-19. Finally, Cambodia told the ship they can dock in their country a week ago.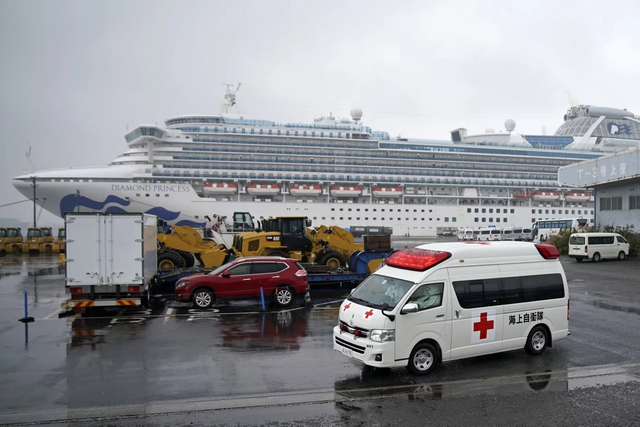 Another cruise ship that made headlines was Diamond Princess owned by Carnival that was docked in Japan. The entire ship was quarantined where passengers were confined to their cabin. However, over 600 people got infected during those two weeks, including two passengers that have since died. Today, hundreds of passengers have begun leaving the ship after testing negative for the virus.
Despite the outbreak, the IMF said it was sticking to its January forecast for 3.3 percent growth in the global economy this year, up from 2.9 percent in 2019. But we haven't seen all that will be affected yet.
Apple reported on Monday that it doesn't expect to meet its revenue guidance for the March quarter because of work slowdowns and lower smartphone demand, due to the outbreak of the virus. And in terms of the cruise ship, the industry is worth over $40 billion. And while China makes up a very small percentage of the industry, other parts of the world are starting to be affected as cancellations around the world continue to increase.
Norwegian Cruise Line Holdings Ltd., together with its subsidiaries, operates as a cruise company in the United States and internationally. The company operates the Norwegian Cruise Line, Oceania Cruises, and Regent Seven Seas Cruises brands in various locations, Russia, the Mediterranean, Canada, Asia, South America, etc. Before the Market open the company announced earnings.
Norwegian Cruise Line Holdings reported earnings this morning. The company beat expectations for earnings and revenue, but they stated the following regarding their forecast.

The company said it expects 2020 EPS to range from $5.40 to $5.60, excluding the impact of the coronavirus that has sickened thousands of people mostly in China and caused it to cancel 40 voyages in Asia.

The virus is expected to shave 75 cents off 2020 EPS. "The COVID-19 outbreak continues to impact consumer travel sentiment regarding travel for cruises in Asia and throughout the Company's areas of operation worldwide," the company said. "The duration and extent of this indirect impact cannot be quantified at this time and is therefore not included in the approximately $0.75 known direct impact outlined above."
Source
Short term, the monthly chart suggest more downside risk with the $46 level being the next stop.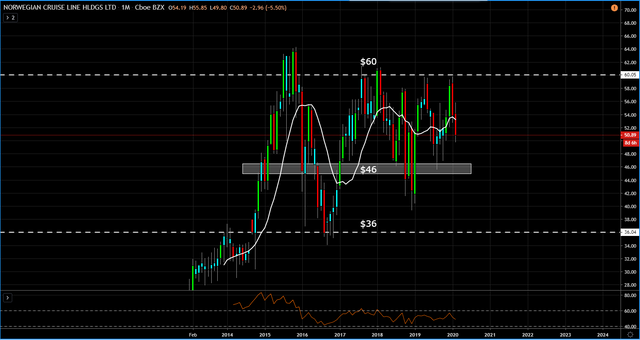 This post is my personal opinion. I'm not a financial advisor, this isn't financial advise. Do your own research before making investment decisions.

Posted via Steemleo