Good day steemians!
"As long as the sun is shining and tomorrow always comes then there's always hope for everyone."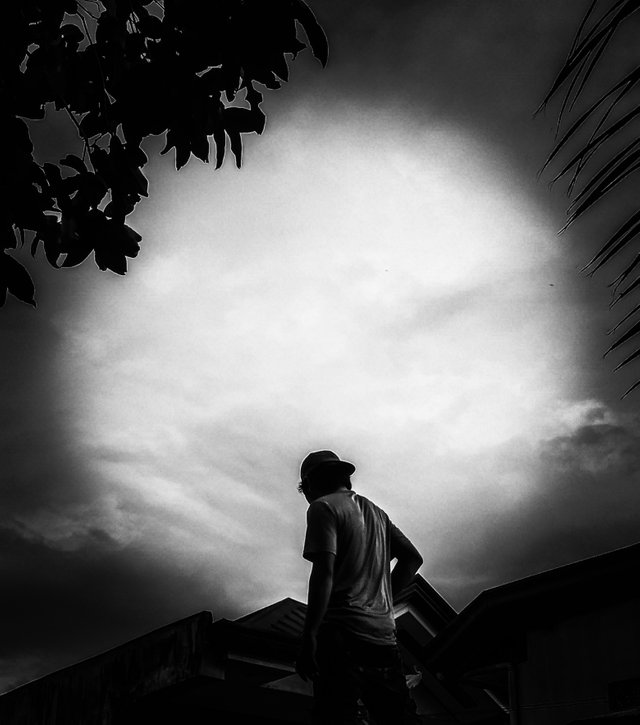 We are now facing lots of problems and difficult situations nowadays, be it the pandemic or government issues and rivalry and also individual problems that we all do hope to be solved.
The photo above was taken last week when I helped in repairing the roof since recently we had news about typhoon "Jolina" and "Kiko" and also the low pressure that brings cloudy and windy weather here in Cebu where I'm located. It was a random idea of having that stolen picture but guess it has a purpose just like everyone of us were born with a purpose that we may still are looking or finding it within ourselves.
We might have different issues in life that made us vulnerable, sad, lonely or may come to the point of feeling that hopelessness. Where we end up stressed, depressed and some can't longer hold and just give up.
Having this opportunity to extend my hand in helping them is a relief for me to breathe. Being up on the roof, overlooking the bigger view is a realization to me that no matter how suffocating and hard the life I have now there's always God above that will made a way for me to be enlightened and will guide me through the right path to prevent or prepare me to a bigger battle.
Hope means having a dream or goal. It's okay to rest for a little bit and maybe its part of God's plan but a winner never quits, so am I and so are you steemians. Hope with courage, prayer, positive mindset and action are the recipes for a better life despite the covid crisis that we all are affected by and the calamities that we all know we can't avoid but to be prepared and the sudden bad or hopefully good situations that will come and go.
Black and white is like a sun and moon. Both has a purpose and both are right in terms of their own position and shines in their right time. It's like our life or our situation where we have ups and downs and it's the result of the decisions we made in our life maybe it is the good thing for others but the opposite is what we think is right at that moment for us. We only got a few chances so take a risk and if first assumption will failed then try again and again and have hope because the right moment will come to rise and shine. We just need to have hope, keep going and rise up as what the photo above emphasize with the black & white photography that was originally mine.
I am inviting @georgie84, @jes88 and @jufranketchup to join and share the creativity you have with the black & white theme.
Thank you everyone, May God Bless us and Heal the World against this pandemic!
Kind regards,
@lealtafaith