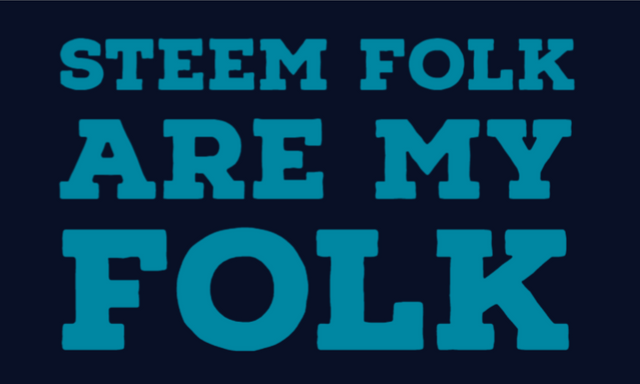 Back in the 90's, they used to warn you about meeting people online. These days, whole social networks are built, connecting people who have never even met in real life. The Steemiverse has connected me to the most creative, interesting, beautiful people that I am utterly privileged to know. For the last two years, I've laughed, cried, relied upon, been inspired by, and loved by many of the people below, and boy I've loved them in return! When @theycallmedan asked for my top 3 Steemians, I baulked. I really, really didn't want to do it, because I don't like leaving people out, because the little child in me knows what that feels like. Then I reallised the blockchain here is kinda anything goes. We break rules all the time. Hence, I'm going to mention everyone I can think of, and if I missed everyone, I'm going to slap myself with nettles and beg your forgiveness.
Hence, my favourite Steemians, and the ones I follow and love, are as follows. They are in no order - I wrote about them as they popped into my head. Big, big love to ALL of you for all that you do. Thanks for being part of my world.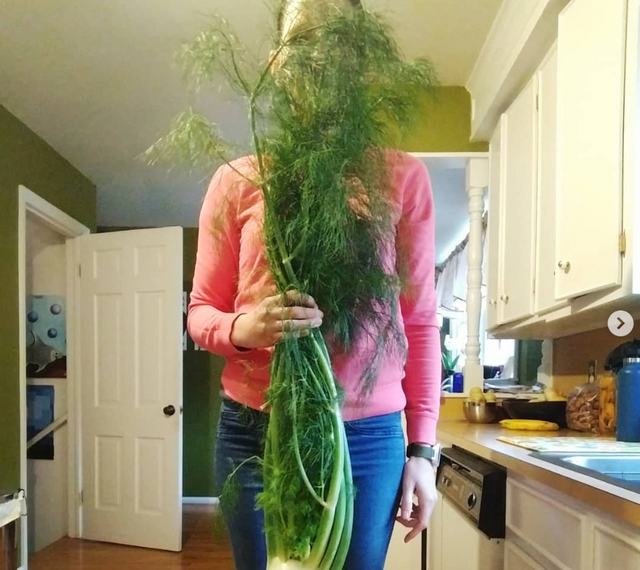 How can you not love a woman like this? Image Source
@plantstoplanks and I have only recently got to know each other on Steem, but I immensely respect her. Not only does she write quality content, but somehow she expresses this energy and passion for plant based health that no one else does quite like her. Her posts always are a refreshing arrival in my feed - and her food is to die for. Like me, she's a little introverted in real life, but she loves Steem like the best of us and cares about where it's going and what she can contribute to it. She's such a loving soul and it just comes out in all her posts. I dare you to hate on vegans after getting to know @plantstoplanks. She also contributes to Steem through her work with @lenasveganliving #fruitsandveggiesmonday, which has been going on Steem for about 2 years now and is a valuable part of the Steem universe, and @yourtop3, which is a great challenge to get involved with too. @plantstoplanks reminds me of how important it is to follow your passions, and to be positive and cheerful even when life gets busy and tough! She's super kind and super lovely and you should definitely follow her, even if you eat meat.

@artemislives is an absolute goddess of a woman, running her own herbal business in Chiang Mai, and raising her jewel of a daughter, Ploi. She always keeps me on my toes with her directness but I have learnt a lot from her and enjoy chatting to her about how to best promote Steem to the outside world. She writes authorititive natural medicine posts backed by good research and I love reading about the plants in her 100 year old Thai garden. A die hard Steemian, this woman is a formidable force and I admire her greatly.
@walkerland, where are you? I miss her so much. Actually, I know where she is - she's busy with her own natural cosmetic company which she started last year, selling the most amazing soaps and other products. I do miss reading about her life in Canada in her beautiful off grid home. She is also a great photographer and I miss her beautiful photos. Hopefully when things settle down business wise she'll come back to us - she was a real assett to Steem. I first met her when I saw her incredible kitchen. One day I'm going to have a cuppa in that kitchen, I swear - especially if Steem rises and I can afford the airfare!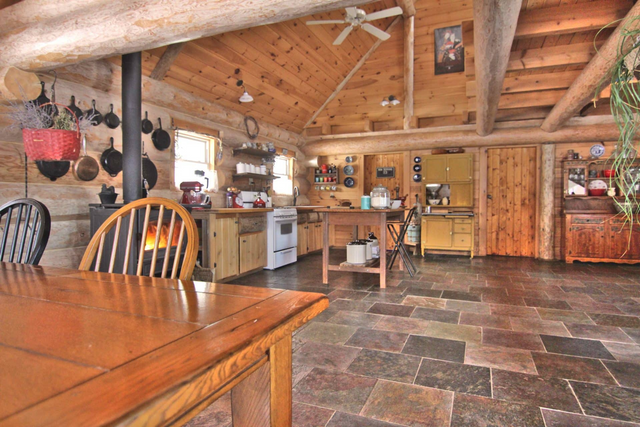 Image by @walkerland
@walkerland's gorgeous kitchen

As I go through the list of people I follow, I have to say that one of the reasons I love Steemfolk is their infinite bounds of creativity. It's one of the things that really attracts me to this platform. Even if you don't THINK you're creative to start with, Steem will teach you that you have more of it than you thought possible.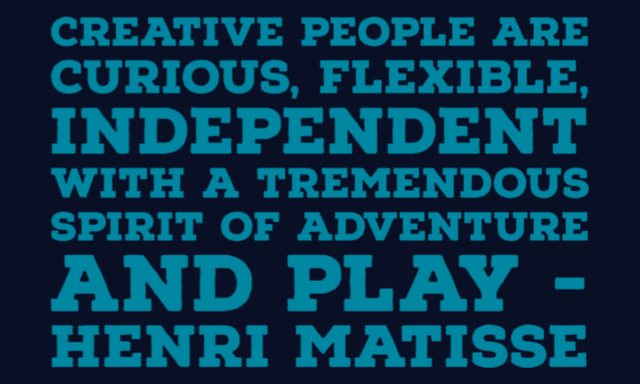 @nateonsteemit - ah, the biggest advocate for independent, resilient backyard farming on Steem. His enthusiasm knows no bounds. It's amazing how you can really see a project progress over two years on Steem, and goodness, you'd never believe how many trees and how much comfrey can fit into a small backyard in Texas. If you had have told me one of my fave people would be some guy in Texas I would have laughed, but boy I'm glad he's around. He makes me laugh all the time, and inspires me. He also writes very, very well - and I always appreciate the posts where he gets all philosophical and waxes lyrical about the possiblity we all have for a new world. Here's him getting super excited about a wild harvest of mullein. He's a forager, a farmer, a father and a flippin' awesome human being.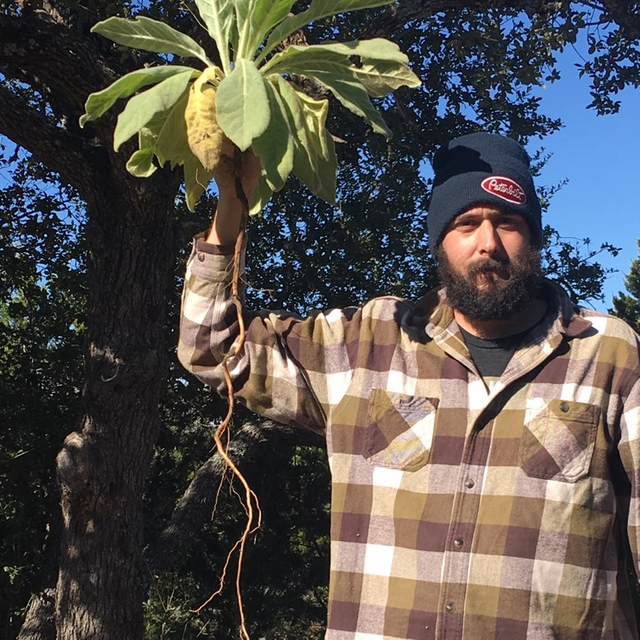 @nateonsteemit and his successful mullein hunt.
@revisesociology is another old timer here I appreciate. He has a head for figures and economics that I just don't, so I always find his posts interesting. I also admire him for retiring from teaching early and sorting his budget out so he can manage it. I also have this fantastic memory of him eating spaghetti in the woods which would make no sense to anyone else, unless you also were part of that great survival challenge that someone used to do on this platform - @canadianrenegade, bring that challenge back! Gee I miss those days of really great creative contests here! He also has the best beard on Steem in my opinion.
@jonyoudyer, head of canna-curate, is also someone I really rate here - he's a really genuine bloke too (I'm starting to think that's a quality I really like haha). He's kind and calm and always got your back if you need him. @canna-curate is a really essential part of the Steemiverse and so is it's head. Whilst we're on the subject of cannabis crew, @richardcrill from Weedcash has also been a gem as I set up @naturalmedicine and @hotsauceislethal has been a great presence in the Natural Medicine channel too. I really am grateful for the advice of canna crew who always come through when I need it.
@fenngen is a more recent friend, but I really love his writing. He's another quiet, philosophical creative soul who is always willing to help. I've even started writing a story with him which involves a guru mouse! Although I keep spelling his name wrong, I do really appreciate his presence on the chain and his writings on meditation.
@porters is another legend on Steem. She lives in the Boreal forest in Canada in the middle of nowhere. It's the most beautiful place in nature you can imagine! She is really into vipassana meditation, and indoor gardening under grow lights with her very short growing season. I love her wednesday walks in nature with Bruno, her dog, where I can just imagine the sound of the geese taking off and the frost making everything look like Christmas. She will do anything for anyone and is one of my most valued curators.

Which, of course, makes me think about community - Steem is amazing for community. Without it, the individual on Steem cannot rise up.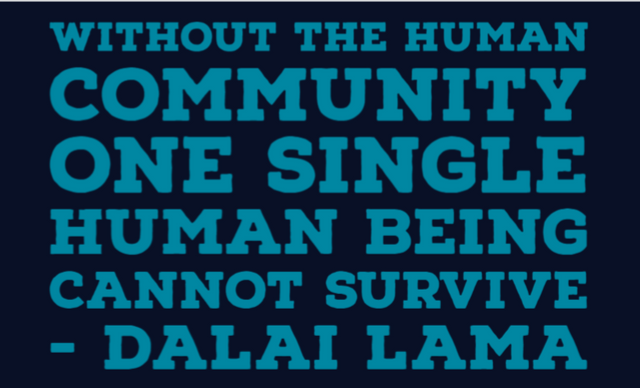 @whatamidoing Zack is one of the first Steemians I interacted with on Steemit. I really enjoyed his Deadpost iniative to give some rewards to old content. It's been lovely watching him navigate the often tricky thing we call life and engage with it philosophically and with his own gentle and creative way. I can't imagine Steem without his musings - they're never contrived, and he is always genuine. I was recently gobsmacked by his generous delegation to @naturalmedicine.
@vincentnijman has a similiar genuine, creative vibe to him and I have to pair him with @whatamidoing because those two are firm friends and have even recently being doing a podcast together. I'll be visiting Vincent when we drive through Portugal this year. He's a mod in Natural Medicine and always makes people welcome. His blog is populated by beautiful views of Portuguese mountains, his love of film, creative writing leaping with tigers and crocodiles, word play in four language, and a love of family. Love you mate!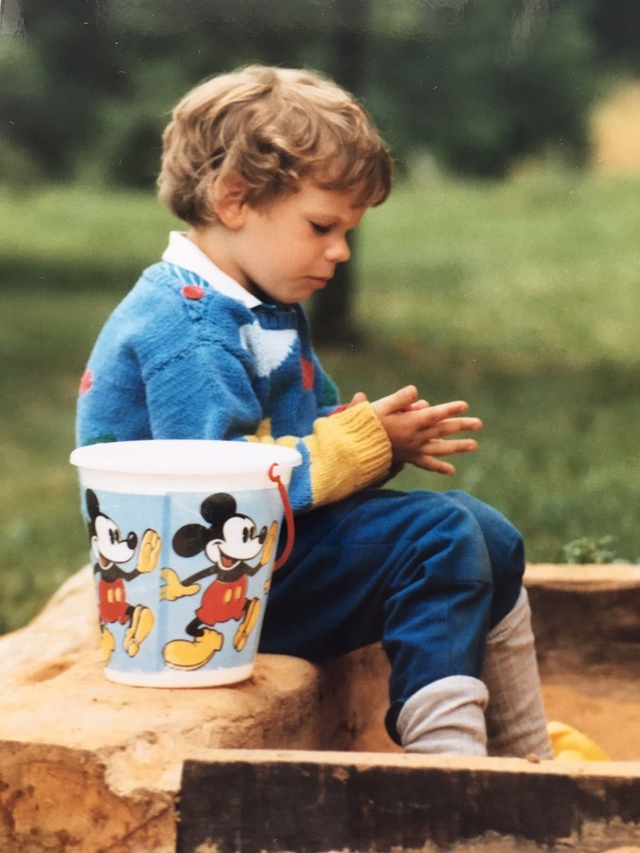 This is @vincentnijman as a kid. I wonder if he is thinking about tigers.
For those of you familiar with @alchemage's youtube 'wake and bake' style clips where he enjoys a bong and philosophises about all kinds of interesting alchemical things, you'll know exactly what I mean. I don't watch a lot of videos - I prefer text, and I simply don't have time to listen to 15 minutes of ramblings. Who was this lion maned tie died shirt wearing stoner? I felt a little intimidated by him too, because damn he was smart. And how the hell did I pronounce his name? Ypyskypo Skwyrl, I STILL don't know how to pronounce your name. This is going to be a problem when I finally meet you in real life, should the stars align and I get to the Pacific North West. Then, I started getting involved with him on the @naturalmedicine project, and realised he was a guy I wanted on my team. He was smart, funny (like me, he loves word play) and he was working on a lot of personal stuff to make his life better, including giving up alcohol and working on his relationship with the love of his life. We spent a lot of time in Discord chatting about life and love, and I felt really chufffed he had chosen me to confide in, something that warms my heart to this day. Not only did he finish a degree in chemistry, but he got accepted into a natural medicine school to become a naturopath - something I had always, always wanted to do. Given how busy things are, he hasn't posted much on Steem lately but I know I can call on him whenever I'm down and if I need him , he's there. I trust his advice implicitly and always appreciate his intelligent, philosophical input in any discussions in the Natural Medicine Discord channel. His polite, loving interactions with others on Steem set a benchmark for me to follow - he's the most empathetic person I know and is going to be an amazing healer. Whilst I still rarely get through his videos, I do devour his written posts, some of which are a real assett to the natural medicine world as he writes up his research papers and dives deep into some really interesting health content.
@metametheus is on a bit of a Steem hiatus at the moment as he deals with real life, but he's seriously one of the most brilliant writers on Steem. He's deeply philosophical, and super knowledgeable about Chinese medicine. He has the dubious claim of being the only Steemian I've met in real life - he only lives an hour away in Melbourne so there was no excuse not to meet.
@trucklife-family has a heart of gold and I'm going to catch up with her in Spain. I admire her heart, her open tenderness, her love for her children and the Earth, her poetry, and she even has a truck just like I used to own. She was one of my first friends on Steem and I love her to bits.
@goldenoakfarm is a homesteading gem here who meticulously records day to day life on her homestead. I might not catch everything she does, but I love popping in to see progress on her house build or her food storage/harvest, and appreciate her stopping by and commenting on my posts too!
@minismallholding is another homesteader I avidly follow. Intelligent and hard working, she's a steem player and here for the long haul. I've had the priveledge of working with her on a few projects and she is a big part of this place. One day I hope to drive past for a cuppa at hers in Radelaide.
@abh12345 rocks with his posts which often gives me pie charts I don't understand but still appreciate. I love the work he puts into Steem and how much he invests in it, and hope to meet him for a pint one day.

There's a few other writers here too that I love catching up with and appreciate the work they do - @pennsif, @soyrosa, @eco-alex, @freedompoint, @mrprofessor, @derangedvisions, @galenkp. There's a lot of new users too that I hope sick around - @joseeb, @badseedalchemist, @herbalist-fox. There's others I wonder when they're going to come back as I loved their work and energy - @mountainjewel (you don't need a paragraph, you know how great you are and what a friend you've been to me here, though we haven't seen you in ages and I doubht you'll even see this post!), @rawutah, @sagescrub, @wildhomesteading. The more I think about it, the more amazing I think Steem is - it's full of incredible people. @raj808 - eeek, I only just remembered to add you - this isn't because you aren't awesome, but because this is a freaking hard post to write and my memory is like a sieve.
I have reached the point in this post where I'm a little worried I've missed someone really important. In fact, I know I have. If I missed you, berate me in the comments, and I'll attempt to rectify it with some loving words and virtual hugs and kisses. You all rock. You truly, truly do.


@naturalmedicine II Discord Invite II #naturalmedicine