Ah, Maserati. For me, it's the quintessential Italian car company, symbolising all the good (and the bad ) about Italy's automotive heritage. They're not as common as Fiat, neither as racy as Alfa Romeo, nor athletically brash like Ferrari and Lamborghini, and certainly not as insane like Pagani.
It's well rounded, and represents the best of everything Italy, with a side of coffee, pasta, and with the faint symphony of a nearby orchestra. Yet, the company isn't as successful as its fellow Italians, nor has it gained the reputational success. Maserati is a brand for that smaller group of enthusiasts.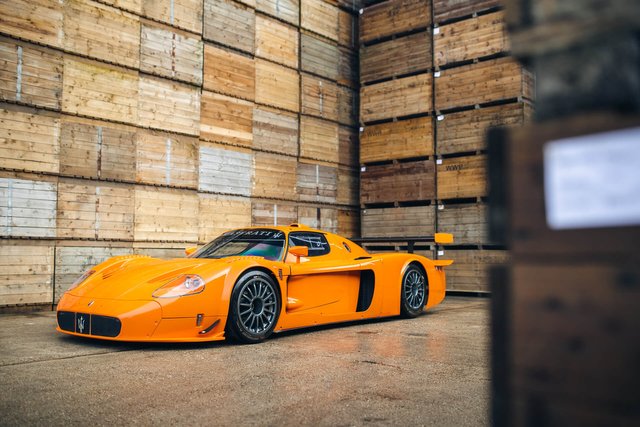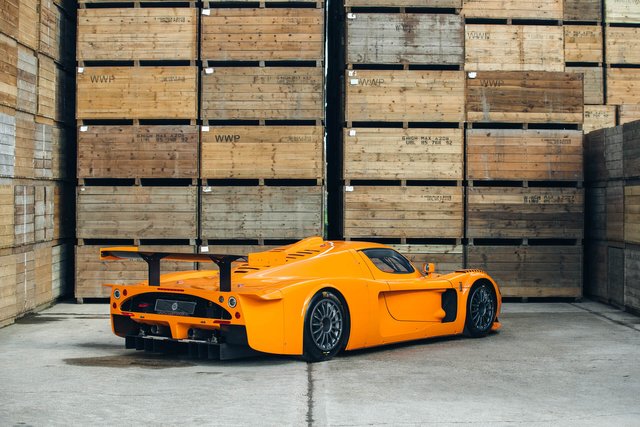 Credits to: Girardo & Co. (2007 Maserati MC12 Versione Corse)
For those people, like myself were excited to finally hear that Maserati's planning for a revolution, to change-up and rebrand their mostly outdated lineup. This is a chance to Maserati to return back to the golden age, where their design and craft was to die for. Unfortunately, because of you know why, their "New Era " was pushed back from May, to September.
While understandable with Covid-19 running rampant, it's still a bit upsetting. This also means that Maserati's new MC20 supercar, perhaps the most anticipated of their relaunch, has been delayed as well. It's been teased several times before, and it ought to be Maserati's first proper supercar in 10 years.
---
The Rock And Roll Years.
It's for those reasons, that we should take this extra time to remember the MC20's predecessor, and one that put Maserati on the spotlight. Even better than just a remembrance, this particular car is also on sale, albeit for a price that most mortals can't afford.
This my friends, is the Maserati MC12 Versione Corse, or "Racing Version " to you and I. Between 2004 and 2005, just 62 MC12s were made - 50 were in the road-going "Stradale " variant, and the other 12 were the "Corse ", including this particular unit. But apart from those 62 cars, few others were made specifically for racing.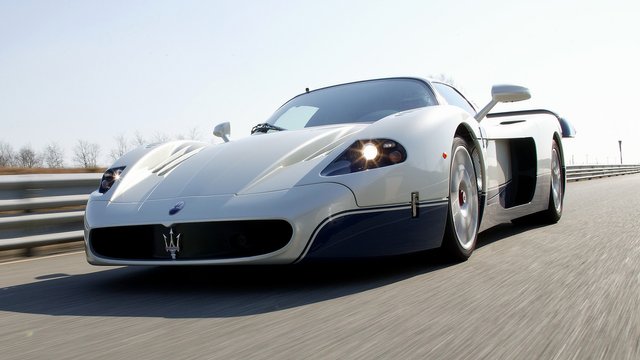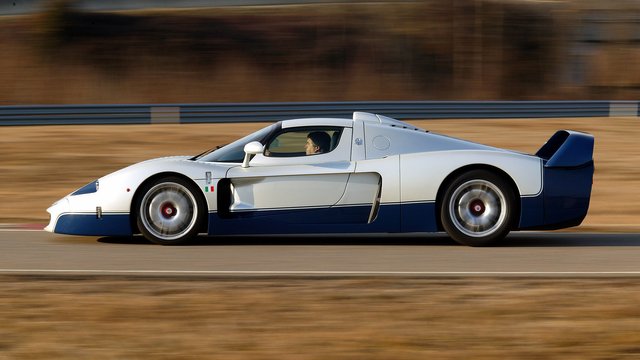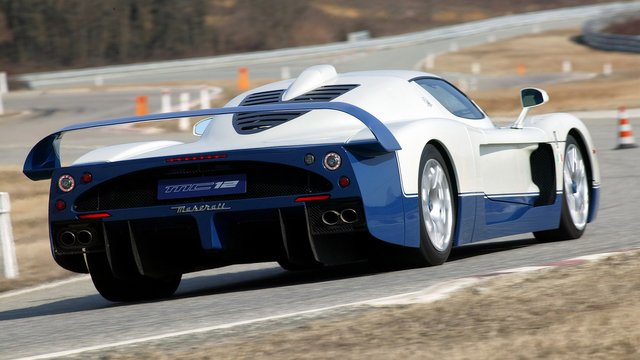 Credits to: CarPixel (MC12 Stradale)
This marked Maserati's return to top-level motorsports after an absence of 37 years, with the FIA GT Championships. Calling it a successful run would be an understatement. Between 2005 and 2010, Maserati's MC12 GT1 cars won a total of 6 Team's Championships, 2 Constructors' Championships, 6 Drivers' Championships, and 40 race victories.
Most prominently in 2005, Maserati won the Constructors' Championships by a huge margin, with more than double the points of that in second place, which was their then-sister brand - Ferrari. Conceived by Maserati after interest from their clients, the MC12 Versione Corse was designed strictly for track use, and was itself based on the MC12 GT1 race car.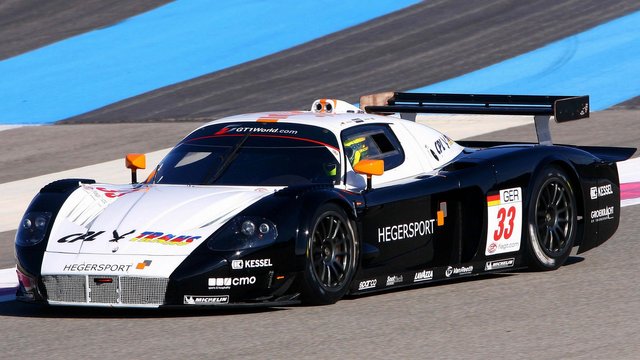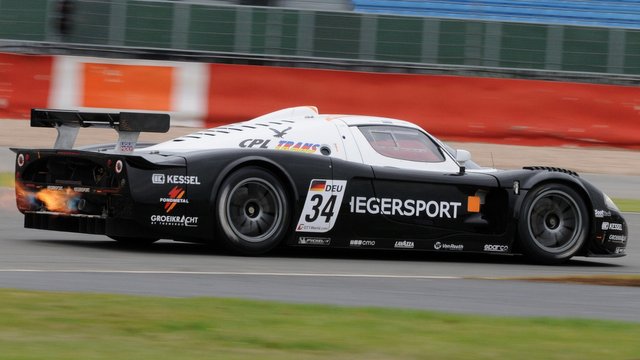 Credits to: CarPixel (MC12 GT1)
Where the "Stradale" MC12s were made for homologation to allow Maserati's entry into GT Championships, the 12 Corse cars were designed with no restrictions in mind, and represents the best of the car industry unshackled by rules. The Corse was not road-legal, nor will it qualify to enter racing, and was thus made without following any regulations.
---
The Golden Child.
It's for those reasons that the Versione Corse is the very best of what Maserati can do with the MC12, and that's obvious as soon as you look at it. The design is undeniably striking, especially with that colour. Originally, an MC12 Corse was painted in "Blue Victory ", which is a similar shade to the successful GT1 race cars. This particular one was specified with a unique, vibrant orange, which looks rather similar to McLaren's famous "Papaya Orange ".
The overall shape is more akin to the GT1 racers, than a road-going MC12. Unlike the Ferrari Enzo which the MC12 was based on, Maserati's engineers have made it wider, longer, and taller. This is all for the sake of better aerodynamics, and the MC12 does have more downforce, while keeping a lower drag coefficient.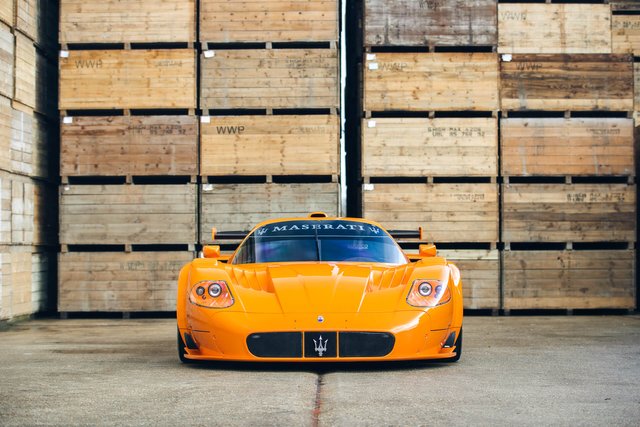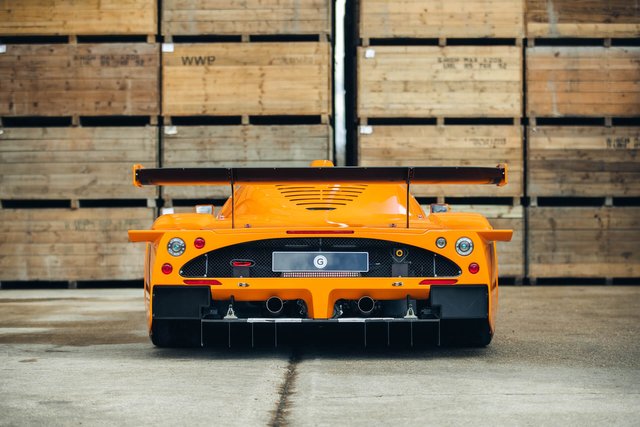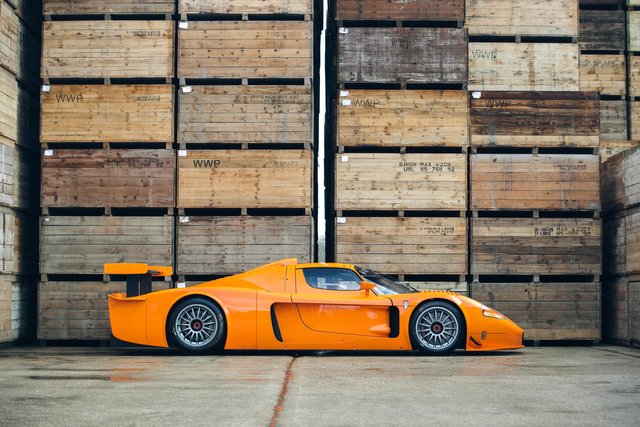 Credits to: Girardo & Co. (2007 Maserati MC12 Versione Corse)
That's another way of saying that Maserati's engineers have managed to make a car that's slipperier than the Enzo, further helped by that huge rear-wing - another trait shared with the GT1 cars. In fact, the only visible component on the exterior that's been shared with the Enzo, is the windscreen, otherwise it's a completely different car.
Speaking of windows, the rear doesn't have any, and you'll just have to make do with small slits on the engine-bay panel instead. Then again, when you're going fast, you don't really need to know what's behind you. The construction of the car was carefully designed to save weight, as it has an aluminium sub-frame all around, while the monocoque chassis is a honeycomb sandwich mix of carbon-fibre and Nomex.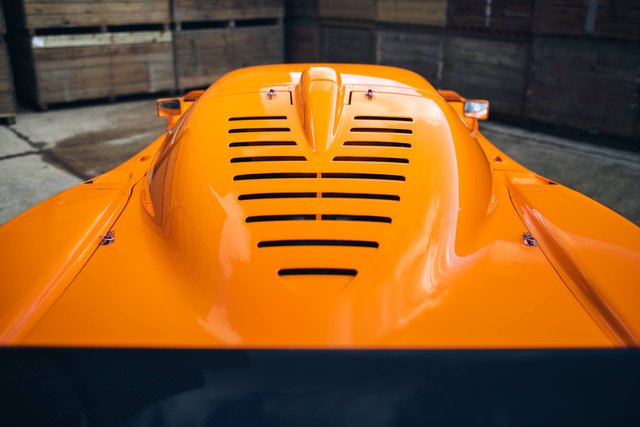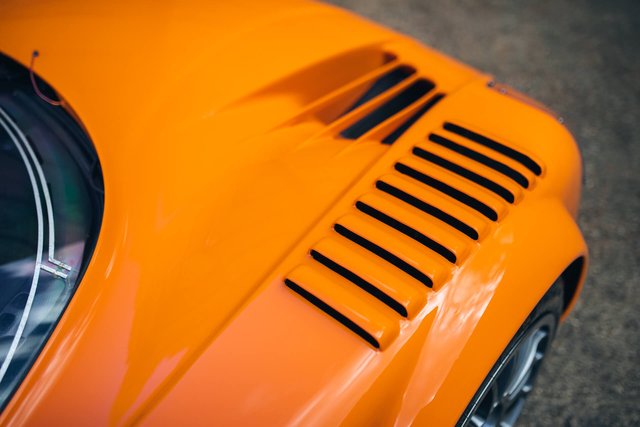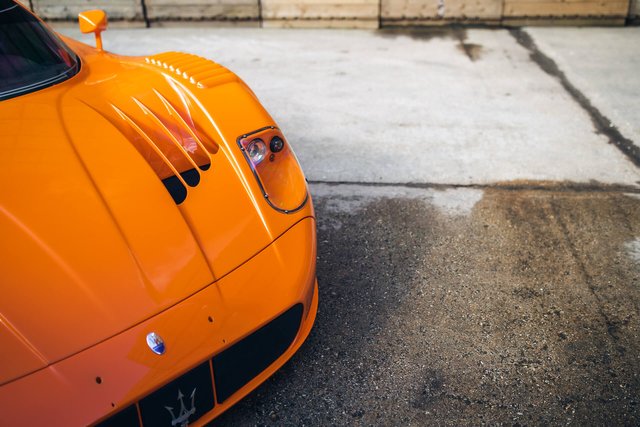 Credits to: Girardo & Co. (2007 Maserati MC12 Versione Corse)
Giving that chassis more rigidity, is an integrated roll cage. Once you climb over that, you'll find a very Spartan interior. Just like the exterior, much effort was expensed to save weight, with a lot of the surface area being replaced with Alcantara and carbon-fibre. Overall, this allows the Corse to have an impressive dry-weight of just 1,150kg.
The Corse even has a fancy, race-inspired steering wheel that integrates the dashboard into a tiny screen, allowing the driver optimal view of speed and revs, without any obstructions. Speaking of, there's a few conveniently placed buttons that do many things, like shutting off the battery, and to also activate the fire extinguisher. Suffice to say, these are two switches that you don't want to turn on by mistake.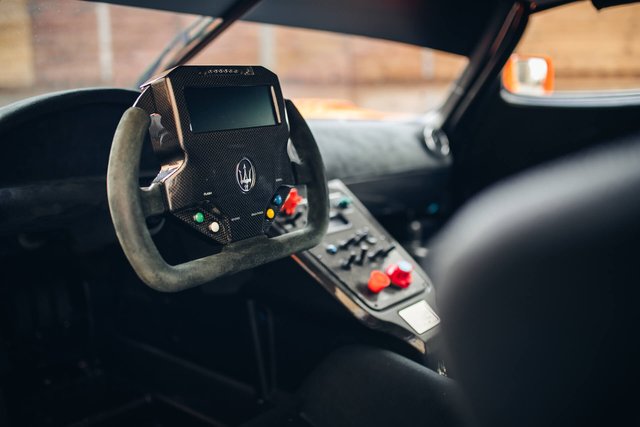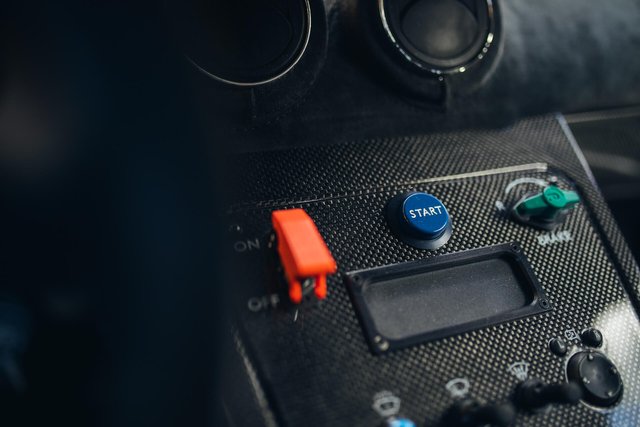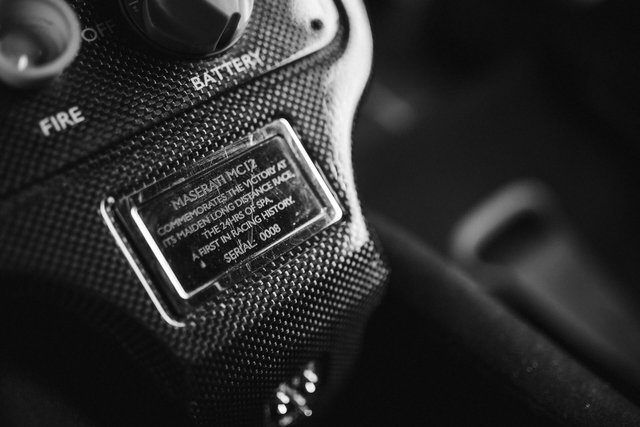 Credits to: Girardo & Co. (2007 Maserati MC12 Versione Corse)
Moving underneath the skin, you'll find an Enzo-derived, 6.0L naturally-aspirated V12 engine powering the MC12. However, as the Corse variant doesn't heed to regulations on output, emissions, or sound - Maserati's engineers have tried to extract as much zest as possible. That racing-bred powerplant now produces 755hp at 8000RPM, which is 125hp more than the MC12 Stradale, and 175hp more than the GT1.
That power goes through Maserati's Cambiocorsa 6-speed transmission, which is essentially the same component as with the Enzo, but with a new name. On the subject of raw performance, the Corse can sprint from 0-200km/h in just 6.4 seconds, and it'll keep on going until 326km/h. If you're needing to take a breath, then some carbon-ceramic brakes will make ready to stop you.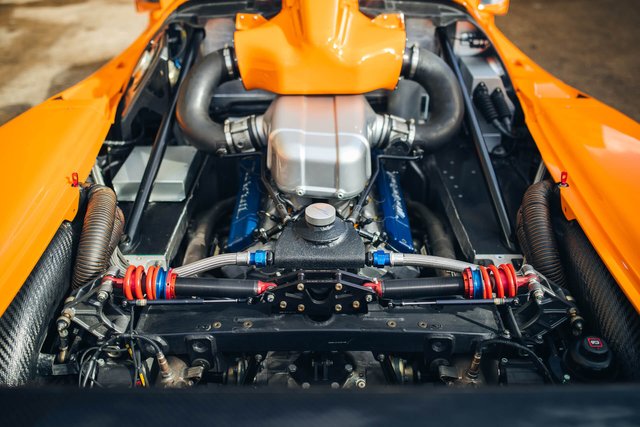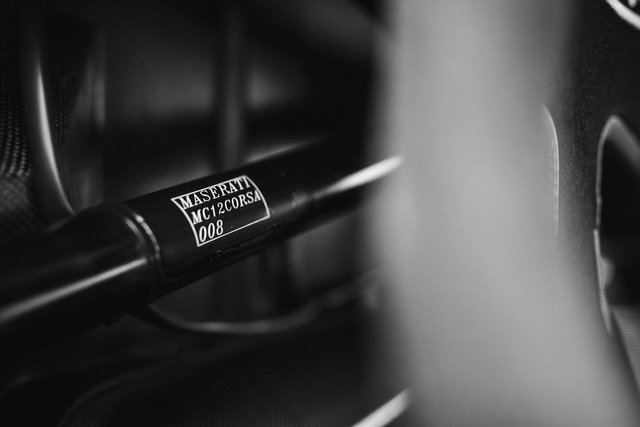 Credits to: Girardo & Co. (2007 Maserati MC12 Versione Corse)
---
The Return.
Now available for purchase at Girardo & Co., No. 8 of 12 (technically 13, including one prototype ) MC12 Version Corse can be had for "Price Upon Request ". I leave that job open to you, as a personal inquiry to them would only remind me how poor I am. For some context, a different Corse was listed for $2.75 million back in 2017.
In a new age where cars are safer and more environmentally-friendly, the MC12 reminds us of the good old days, when petrol ran through our veins. Assuming that it hasn't appreciated much in value, it would be a close contender to Bugatti's new Chiron Pur Sport. It'll also be rarer, compared to the Pur Sport's 60-unit production run. Given the budget, which will you take, this Italian master of motorsports, or the French continental cruiser?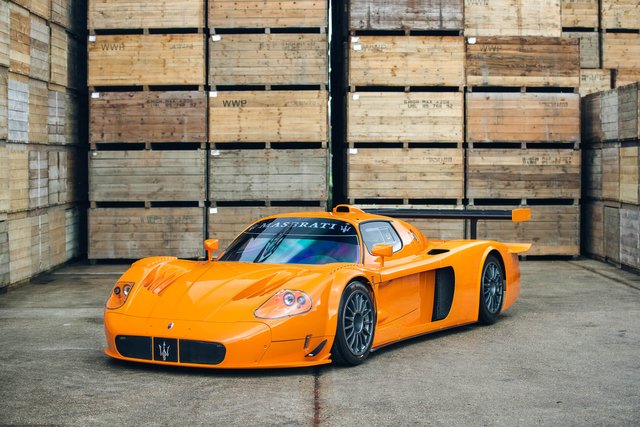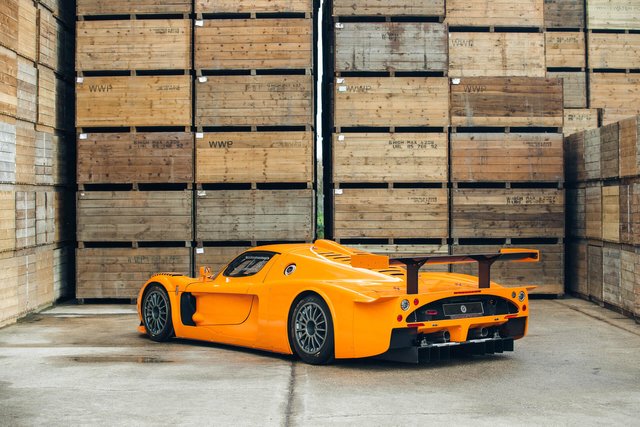 Credits to: Girardo & Co. (2007 Maserati MC12 Versione Corse)
---
Thanks for reading! For more updates on my blogs, or the more minute things in life, feel free to follow me on Twitter and LinkedIn, and maybe give a shout there as well!
While you're at it, follow along @zacknorman97 for more, coming soon :-)