Hello friends, accept special greetings from this end globe.It's has not been easy for me since my father died.Being back to town where am presently living with my family.Everyday have many visitors friends, relative,classmates and colleagues who came in my house to condole with me for my father's death.No time to take enough rest with other errands.
I slept yesterday very late around 2:00pm, trying to made up with my school assignments I was unable to do the week my father died.At 6:00pm, I was up from bed.Today according to our tradition was the shaving of our head as we lost our dad.I left the house went to my mothers place .
My mother is not living far from me, we had some prayers together with my siblings.After, I went to the barbing studio to shaved my hair .Which signifies am mourning my dad according to tradition.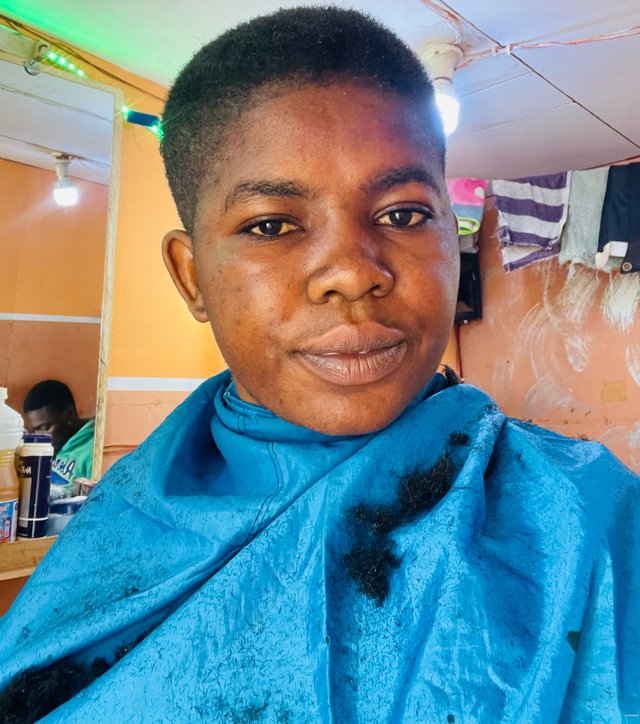 Me at the barbing studio,the baker shaving my hair
When the barber was done shaving my hair, I had people who already they are coming to see in the house .I had to rushed to the market to buy my son,s bathing needs.while in the market at my friends shops,I bought the necessary things for my kids that got finish.This my friend sales goods babies things at affordable prices.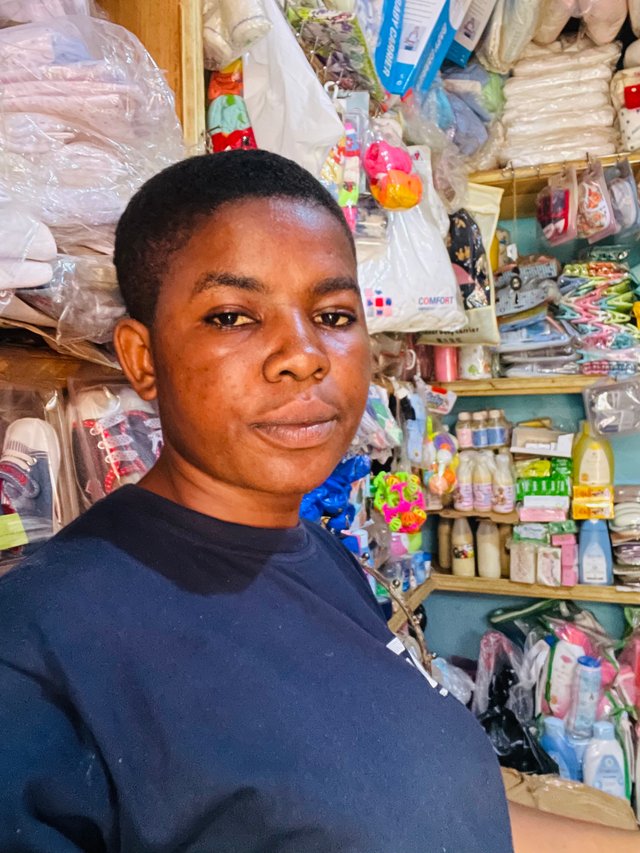 At my friends shop place to my kids bathing stuffs
After, I was done buying, I took a cab back home, I already programmed to cook Huckleberry with katiti and fufucorn as menus for the day. Luckily I already fixed my huckleberry the precious day and chicken kept in fridge to be used today .I removed these things from fridge and allow it to defrost.In 2 hours I was done cooking huckleberry and katiti.
Cooked huckleberry with katiti prepared by me to be eaten with fufucorn
I proceeded cooking corn flour as fufu corn to be eaten with it.In 2hours time I was done cooking.I received many visitors who came to condule with.At one point at round 2:30pm, I decided to fry Doughnuts so that it will serve to entertain my visitors with.I had all the ingredients inthe house .I started by doing my measurements of mixtures,flour, Nutmeg, baking powder,eggs,sugar,milk,butter and vanilla sugar.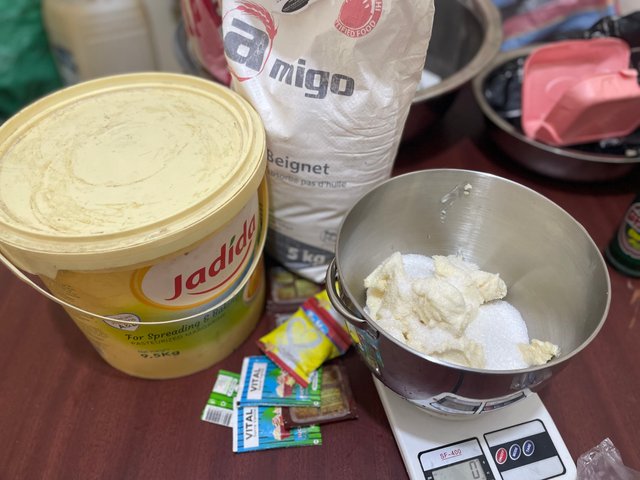 Ingridients I have measured to make doughnuts
After, measurements I did the mixture,I was abit fast because I was using a machine mixer. I allowed the barter of my doughnuts to get matured for about 1hour.Later, pot my groundnutoil in the pot and started frying.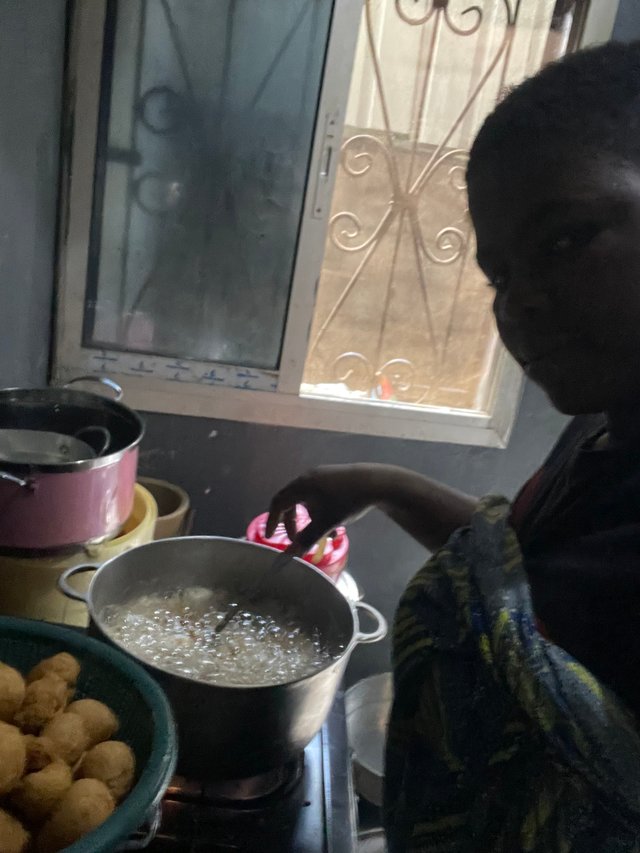 Me inthe kitchen frying doughnut
My mixed barter, in 2 hours I was done frying the doughnuts.It's was really much and I needed to allow it to get cool before I preserved inthe the carton.I couldn't hestitate to take selfie with the doughnuts am just done from frying.After some few minutes I put it inside a carton to preserve it well.
Doughnuts fried by me and put inthe carton to preserved it
It's has been a busy day for me no rest and I even forgot to eat the whole day. I decided to freshened up around 6:30pm,Heated food and served myself with dinner.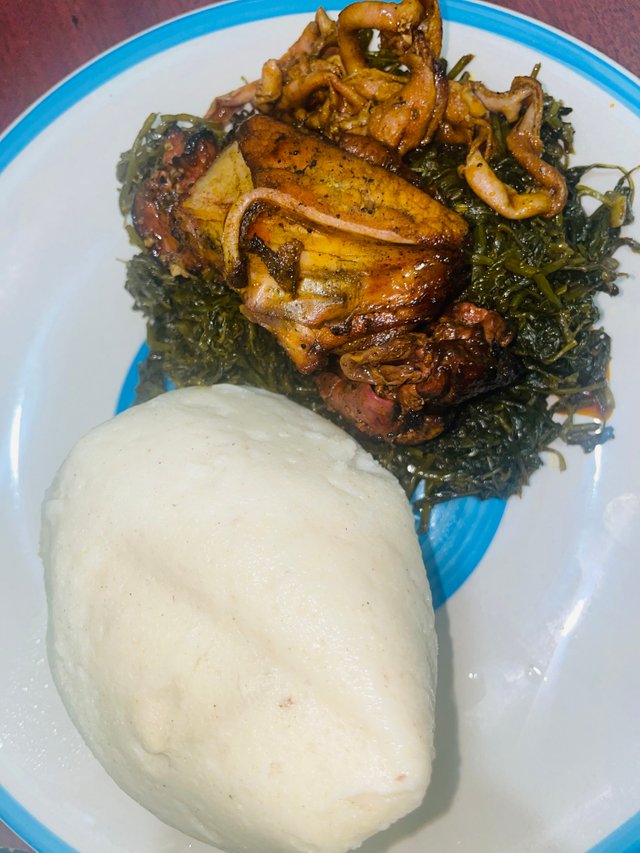 My dinner katit with Huckleberry and fufucorn
I tried to follow some movies going on after eating but I was already feeling dizzy and sleepy.At 9:00pm,I went bed and napped That how my day was a busy one and unfolded.Happy weekend to all my fellow steemians.