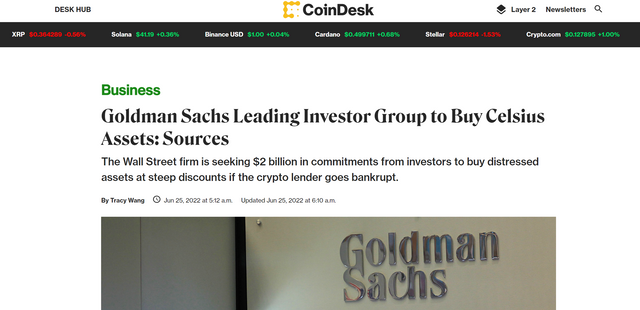 Goldman Sachs Leading Investor Group to Buy Celsius Assets: Sources
Goldman Sachs which is an American investment bank advised Celsius that is a crypto collateral lending project to be bankrupt.
Celsius borrowed money from a lender through collaterals such as Bitcoin, Ethereum, and so on, then invested altcoins. And, the Terra-LUNA crash happened. So, it seems that they can't pay money to the lender.
Accordingly, the lender should sell the collaterals. When they sell in exchanges, it's hard to sell their assets at market prices due to the low market liquidity.
Or, they can do a P2P exchange. But, the size of the collaterals is too big. So, it's hard to look for retail investors or institutional investors.
If the bankruptcy of Celsius is good for Celsius, the lender, and Goldman Sachs, it will proceed. Lenders can make the loss minimize, and Goldman Sachs can secure numerous digital assets at low prices.
I think it's not bad news if Celsius is bankrupt. Because they don't need to sell them for less than market prices. For Goldman Sachs, the average entry prices of BTC and ETH are $20k and $1k. So, it would be attractive prices for investors.