There are couple changes we could make on Steemit.com and STEEM that I think would make a big difference
I've been thinking of a couple moves we could make on STEEM that might potentially make a big difference going forward.
Here they are, in no particular order...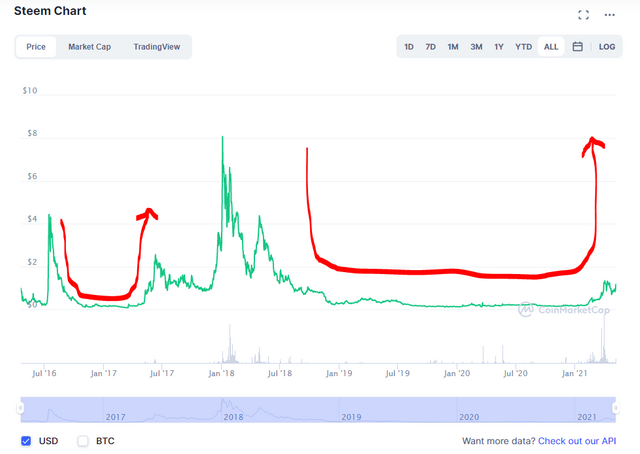 (Source: https://coinmarketcap.com/currencies/steem/)
1. I'd like to see an internal market for STEEM/TRX in our wallets similar to STEEM/SBD
There is an internal market for STEEM/SBD, why don't we also have one for STEEM/TRX?
With the ability to also earn TRX for posting and voting, it only makes sense to also have a way to seamlessly go between STEEM and TRX without having to go to outside exchanges.
I think it ultimately would encourage more commingling of the Tron and STEEM communities/ecosystems which would ultimately benefit both of them.
2. I'd like to see a STEEM Defi ecosystem created
This one is a bit more ambitious but one I think would pay off big time!
We could set up some defi liquidity pools with STEEM/TRX STEEM/BTC STEEM/ETH etc for example, and then we could setup some farms that use these pools and pay out STEEM as a reward and call it STEEM Finance.
So, for example we could have a STEEM/TRX farm that pays STEEM rewards out to liquidity providers staked in the farm.
Where do the STEEM rewards come from?
This is the part that is up for debate, but I would suggest simply pulling some of the current STEEM inflation from somewhere else, for example pull the inflation that is currently going to the STEEM DAO (preferred) or some from the Author reward pool, or even some from the witnesses, or some combination etc.
The idea is that the overall STEEM inflation rate does't change, but the STEEM Defi ecosystem pays farming rewards in STEEM and STEEM is the base pair for all pairs on STEEM Finance.
I think this could potentially attract a ton of new investors to STEEM and drive users to Steemit.com and plus it would help move some of the investors out of the content arena and allow them to earn on their investments without having to muddy the content arena, something I know the social users would appreciate.
Defi is all the rage right now and there is no reason that STEEM Finance can't capitalize on this as well. It's been needed for a long time and something I think would put STEEM back on the first page of coinmarketcap.com and back on the map in the minds of crypto investors.
3. I'd like to see Justin Sun posting on Steemit.com first and then pasting those posts on his Twitter/Medium etc...
Justin Sun and co bought steemit.com yet they don't use it. There is a very simple way that they could drive a ton of traffic to steemit.com and to steem without spending a bunch of money on advertising.
Justin Sun is a highly followed figure in the crypto ecosystem and him simply posting his thoughts/ideas/announcements on steemit.com first and then pasting those on Twitter would likely drive a ton of traffic to steemit.com and STEEM.
He owns it, why not start using it?!
Seems like an easy change to make that may make a major difference.
4. I'd like to see STEEM listed on Justswap and Pancakeswap etc...
Many of the Tron ecosystem tokens/coins are listed on the default list of coins on Justswap, STEEM is not one of them. Why not?
Simply adding STEEM to justswap could help drive more users to STEEM and Steemit.com.
Also, Justin Sun just put out an announcement today talking about the Tron ecosystem coins that are now listed on pancakeswap, yet there was no inclusion of STEEM yet again. Why is that?
I'd like to see STEEM added to these places as well.
.....................................................................................................
Some or all of these things would likely be hugely beneficial to STEEM and for steemit.com. There hasn't been a lot of development here since incorporating TRX rewards, it's time to take the next steps to really push STEEM and steemit.com to the next level.
What do you say @steemitblog @steemcurator01 @steemcurator02 @justinsunsteemit @justyy and all other witnesses, can we make some or all of these things happen?